How ductless heat pump technology is addressing the electrification trend
Sponsored by GE Appliances Air & Water Solutions
Learning Objectives:
Discuss the impact of electrification on the HVAC industry.
Explain how the features of a mini-split heat pump address cold weather issues.
List electrification initiatives and legislation that are impacting the HVAC industry.
Describe the considerations distributors, contractors, and homeowners must each evaluate when specifying cold-weather mini-split systems.
Credits:
BNP Media has met the standards and requirements of the Registered Continuing Education Program. Credit earned on completion of this program will be reported to
RCEP.net
. Certificates of Completion will be issued to all participants via the
RCEP.net
online system. As such, it does not include content that may be deemed or construed to be an approval or endorsement by the RCEP.
As an IACET Accredited Provider, BNP Media offers IACET CEUs for its learning events that comply with the ANSI/IACET Continuing Education and Training Standard.
This course may qualify for continuing education through the FBPE.
This course may qualify for continuing education through the NYSED. For further information, please visit the NYSED website at
http://www.op.nysed.gov/prof/pels/peceques.htm
.
Purpose statement:
This article looks at how ductless mini- and multi-split heat pump technology can now meet the needs of cold-climate residential applications as a high-performance replacement to outdated systems or as a way to bolster conventional systems — and in doing so, keep up with the trends and regulations electrification requires.
This test is no longer available for credit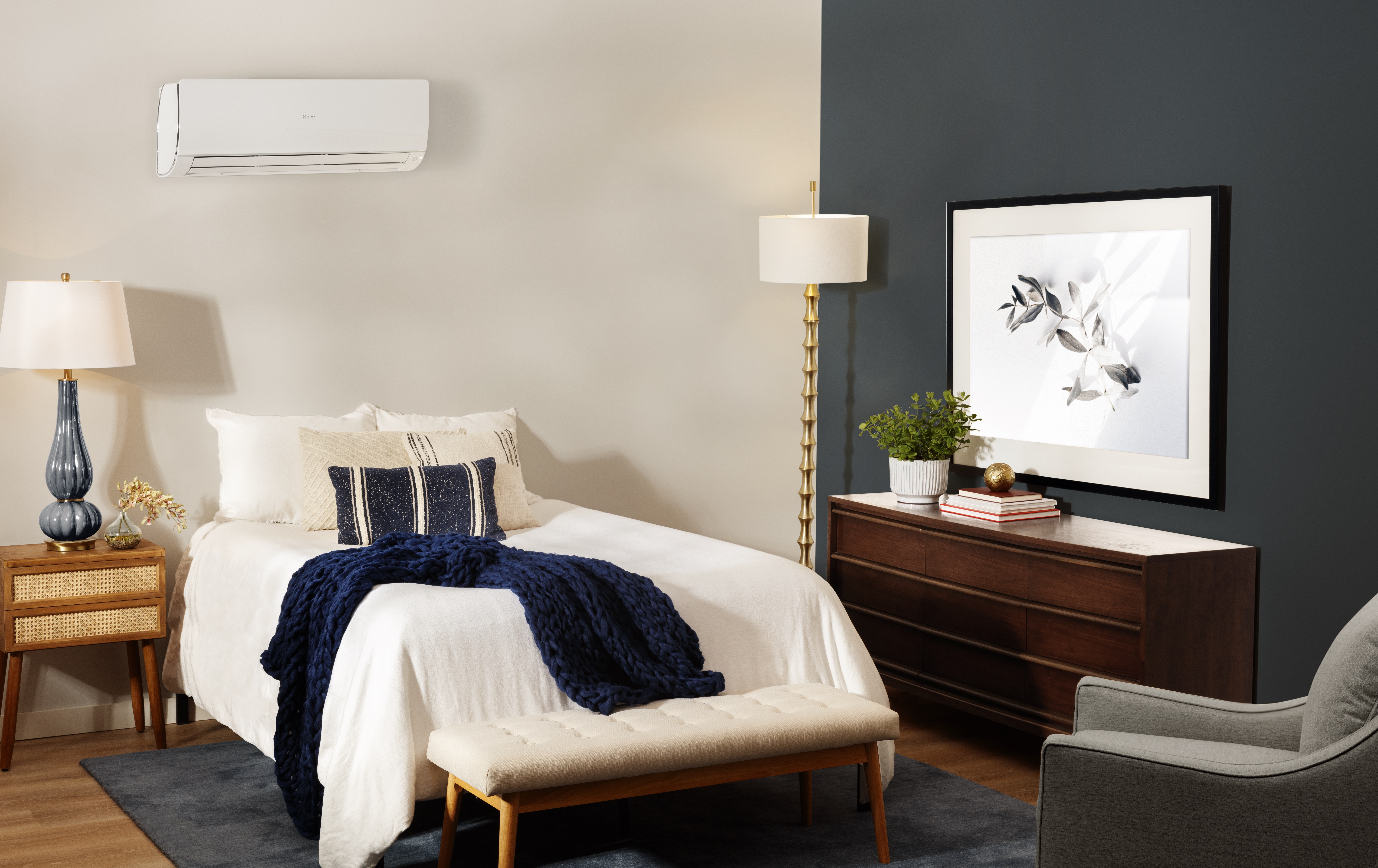 All photos provided by GE Appliances Air & Water Solutions
According to the U.S. Department of Energy (DOE), air-source heat pumps, such as this mini-split, can provide up to three times more heat energy to a home than the electrical energy they use.
Electrification and the role of heat pump technology
Electrification is an important megatrend that is having — and will continue to have — a major impact on a variety of industries across the world. The process of electrification involves replacing technologies that use fossil fuels such as coal, oil, and natural gas with technologies that run on electricity. In an ideal situation, these technologies would use electricity generated from renewable sources such as wind and solar power to produce clean energy. The trend away from fossil fuels represents a major shift in the way the world is powered, and it has the potential to create positive change within individual industries and for the benefit of the Earth.
The main goal of electrification is to reduce carbon dioxide in order to solve one of our greatest challenges: decarbonizing the economy and mitigating climate change. Electrification is a viable path toward a carbon-neutral system — one that would meet the goal of the Paris Agreement to limit global warming to 1.5°C by 2050.
The building industry is one of the most important areas in which electrification can turn the tide. Transportation, building, and industrial sectors, such as steel mills, emit the majority of greenhouse gases in the United States. In U.S. households, more than half of the energy consumption in the home is from heating and cooling. For that reason, electrifying vehicles, applying electrification to building heating and cooling systems, as well as electrifying industrial processes, are some of the main steps being taken toward this goal.
Ethical and environmental considerations for electrification aren't the only drivers for change. There are many other reasons to specify for building electrification beyond climate change and sustainability. A well-planned transition toward electrification could ensure a more affordable and secure energy supply, increase energy efficiency, and improve urban air quality. These impacts serve the built environment and its occupants.
Electrification is projected to create quality jobs — and more of them — especially in the transportation and building sectors. According to a 2020 report from electrification nonprofit Rewiring America, an "aggressive national commitment" to electrification in all aspects of the economy would lead to the creation of up to 25 million high-paying jobs for Americans over the next 15 years and provide 5 million sustained jobs by mid-century.
Electrification can also help solve air quality problems. Some gas appliances emit air pollutants indoors — where people spend an average of 90% of their time. Transitioning to electrification would aid in better health and well-being for building occupants. According to a 2017 study published in the Journal of Environmental Economics and Management, evidence suggests that electrifying a home leads to "substantial reductions in indoor air pollution." A reduction of 66% of fine particulate matter was seen two years after a select group of households connected to the electric grid. The study also saw respiratory infections among children under six 8 to 14 points lower in electrified households.
In 2019, the Office of Gas and Electricity Markets (OFGEM) in the UK commissioned a survey to discover consumer attitudes on decarbonization. What they found was that most consumers did not know about the need for carbonization or the 2050 target. They did understand certain transportation and recycling measures regarding emission reduction, but they did not connect sustainability to their own household energy consumption. When the decarbonization targets were explained to them, most people surveyed were enthusiastic about the goals. They wanted to know how it was going to be done and what it would mean for them. In other words, they were willing to consider change but needed to know what tools were available to them.
There are a great many stakeholders when it comes to electrification. Individual consumers are an important part of the equation toward carbon emissions reductions. Changes in consumer attitudes are one of the drivers in the movement toward electrification because they affect policy and technological trends. Policy will also lead toward legislation and codes that require electrification, which means consumers — individuals, organizations, and businesses — will need to think about compliance.
But the transition to electrification requires some effort. In the U.S., 70 million homes and businesses still burn gas, oil, and propane, generating 600 million tons of CO2 each year. Transitioning to electrification requires understanding what technologies are available and how to specify them. Electrification will likely force homeowners to install higher-efficiency systems in order to take the stress off power grids, which lessens the burning of fossil fuels. Individuals, organizations, and businesses stand to benefit from cost savings due to reducing energy through electrified technologies. But while electrifying the home may result in a less expensive energy bill over time, the upfront costs of purchase and installation are sometimes high.
That barrier is changing, however. Research done by Resource Innovations, an energy solutions organization, recently compiled information showing that heat pumps have made major advances in different areas including with fan motors, refrigerants, compressors, coils and with the use of ground and air "dual" sources. They are also being built with dual-speed and variable-speed motors to optimize comfort and electricity savings.
Consumer understanding and education of these innovations are important. When manufacturers, installers and others in the HVAC industry see the big picture when it comes to electrification, they know how to navigate the trend and inform consumers of their options. It may not be in full force now, but the trend is projected to increase dramatically over the next decade.
Electrification will also have different effects depending on a region's initiatives. Understanding those initiatives and incentives is important information for homeowners to have. States like New York and California are leading the way in electrification initiatives, while other states are lagging behind. In this article, we will explore rebates and other incentives offered in a few states. Knowing what regional policies are in place now — and how they might evolve in the future — is essential to keeping up with the electrification trend.
Heat pumps as a decarbonization tool
When it comes to the electrification of buildings, heat pumps are a major area of focus. Because heat pumps run on electricity, they offer a natural pathway toward the goal of electrification. And the benefits of heat pumps are much more profound than they might seem. While powering electric appliances with a fossil fuel-driven grid may not seem like a step forward, as renewable energy becomes more prevalent, heat pump systems offer a cleaner source of energy. In other words, the environmental performance of heat pumps improves as the grid's environmental performance improves.
Heat pumps utilize refrigerant and a series of fans to transfer heat from inside the property to the outdoors in cooling mode and are able to reverse this process in heating mode – delivering heat even in low temperatures for the property.
A ductless heat pump, often called mini-split, doesn't require any ductwork. A mini-split system features an air handler and a condenser connected by a refrigerant piping through an exterior wall. It targets a specific area of the home and can comfortably heat or cool a full room. It is also often more economical than portable space heaters and window a/cs due to its ability to be programmed to start and stop or automatically sense when it should reduce its energy use. This particular product becomes a perfect solution for older homes in which particular rooms or areas are challenging to keep comfortable.
These ductless systems are easy to install and can be put almost anywhere in a home. They can be configured to handle one or multiple wall units inside using a single outdoor unit, which helps in matching the amount of heating or cooling needed in each room. The system is quiet and can be installed so that aesthetics can be preserved and noise levels do not interfere with the comfort of occupants.
Heat pumps are a natural fit as an environmental solution. They use the energy in the environment and transfer it for heating and cooling purposes. Thermal energy naturally moves from places with high temperatures to places with low temperatures. For example, in cold weather, heat from the inside is lost to the outside and summer heat from the outdoors flows into a building. Because heat pumps use electrical energy to change the flow of thermal energy, they are more efficient than some other systems and can reduce carbon footprints.
According to the U.S. Department of Energy (DOE), air-source heat pumps can provide up to three times more heat energy to a home than the electrical energy they use. This leads to lower carbon emissions as well as cost savings for homeowners. And while natural gas tends to still be cheap in comparison, ductless heat pumps are comparable. In a 2021 analysis by the Northeast Energy Efficiency Partnership (NEEP), which publishes a list of cold-rated heat pumps, the average ductless heat pump on their list uses 283 watts at 5°F and delivers over 4,400 BTU/hr. On a cost per BTU basis, this is $12.61/MMBTU. That makes it, for the first time ever, on par with natural gas in the Northeast, though these types of comparisons vary from region to region.
And here's the crux of it: Space conditioning and water heating account for 70% of the primary energy consumed in U.S. homes. To achieve decarbonization targets, the heating and cooling of homes are one of the main areas that can have an impact on energy reduction. The trend toward decarbonization in the power grid is leading to greater interest in the examination of how energy is used. The deployment of highly efficient heat pumps is a solution that has continued to increase, gaining traction in the effort toward decarbonization, increased energy efficiency, and long-term cost savings for the consumer.
Originally published in August 2022
Notice