New timber technologies that keep the flame at bay
Provided by Engineering News-Record
Learning Objectives:
Describe how hybrid approaches to mass timber help buildings meet fire performance standards.
Explain changes to the IBC 2021 code that have led to taller mass-timber structures.
List types of fire tests that are done on cross-laminated timber to show their safety performance.
Describe the past difficulties in obtaining city permission for tall, mass-timber buildings, like the example of Ascent in Milwaukee.
Credits:
BNP Media has met the standards and requirements of the Registered Continuing Education Program. Credit earned on completion of this program will be reported to
RCEP.net
. Certificates of Completion will be issued to all participants via the
RCEP.net
online system. As such, it does not include content that may be deemed or construed to be an approval or endorsement by the RCEP.
This course may qualify for continuing education through the FBPE.
This course may qualify for continuing education through the NYSED. For further information, please visit the NYSED website at
http://www.op.nysed.gov/prof/pels/peceques.htm
.
Below are a set of links to articles. Click on each link below to read the articles and then complete the quiz to earn your credit and certificate of completion.
In the past, "fire" and "wood" have been two words that, together, evoke disaster when it comes to buildings. However, robust, new technologies in mass-timber fire resistance and fire-retardant lumber have changed the course of that outcome. This course looks at a variety of wood construction solutions and real-life projects that proved tall timber's viability in reducing problems with fire, keeping structures sound and occupants safe and healthy.
Experts Recommend Hybrid Structures for Tall Timber Buildings
For the University of British Columbia's 174-ft-tall Brock Commons dormitory—which currently ranks as the world's tallest mass-timber frame—the design team developed a hybrid approach for gravity and lateral loads. This article looks at a variety of benefits and discusses how tall wood buildings can meet or even exceed the level of fire performance currently required by the National Building Code of Canada for noncombustible construction.
Nadine M. Post
Historic Mass-Timber and High-Strength-Rebar Code Proposals Make Headway
In 2018, two historic code changes were proposed—one to allow taller mass-timber buildings and the other to allow use of higher-strength reinforcing steel. This article follows the approval process that led to the historic adoption of provisions in the 2021 IBC, to allow mass-timber framing in residential and office buildings as tall as 270 ft. It discusses rigorous fire performance and life safety tests that confirmed the timber's robustness and helped facilitate this provision change.
Nadine M. Post
Fire Tests Inspire More Robust Timber Product Standard
In 2018, based on fire test results, mass timber groups adjusted product certification standards to require the use of cross-laminated timber with structural adhesives tested to demonstrate better fire performance. This article explores the standards around fire performance and timber that cropped up that year and led to many changes in tall timber construction.
Nadine M. Post
Cross-Laminated Timber Product Passes First US Fire Tests
This article explores some of the earlier fire tests for mass-timber structure, in particular cross-laminated timber (CLT), that went on to help change standards and codes in 2021. It explores flame spread and fire-resistance tests for CLT and the effect those tests have on the U.S. supply chain.
Nadine M. Post
Milwaukee's 25-Story Ascent Stacks Up as Tall Timber Role Model
Approvals for Milwaukee's 284-ft-tall, mass-timber high-rise, Ascent, took 2 years. This article delves into some of the drama and intricacies that led to city fire officials accepting the unprecedented use of the sustainable material in the tall wood and concrete frame. In particular, it discusses the burn tests that were required to determine the exposed glulam columns' fire-resistance rating, which helped show equivalent fire performance to structures made from noncombustible materials.
Nadine M. Post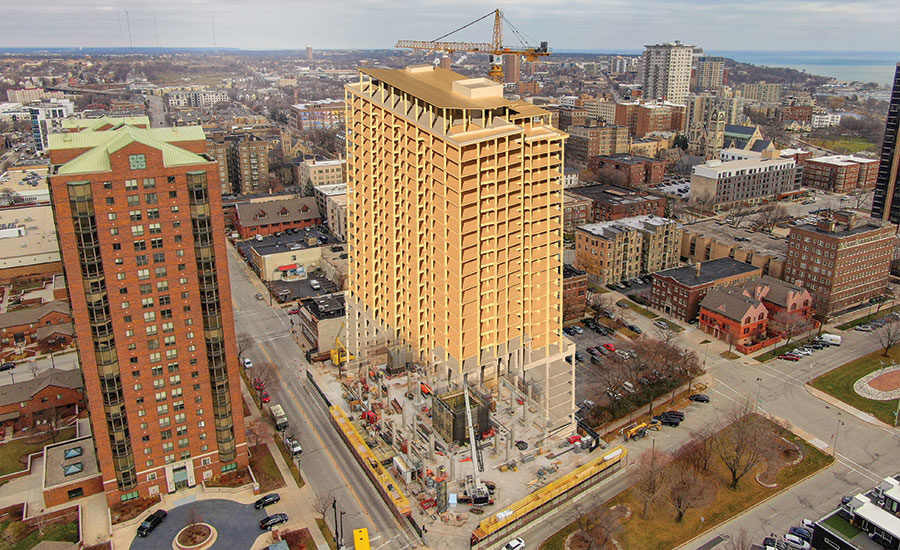 Montage by Scott Hilling for ENR-rendering by Thornton Tomasetti, photo courtesy C.D. Smith
Originally published in March 2022
Notice