Mass Timber in North America
Expanding the possibilities of wood building design
Sponsored by Think Wood
Multifamily and Hospitality
In the United States, a recent example of a multi-story mass timber building is a four-story CLT hotel, Candlewood Suites at Redstone Arsenal, an Army base near Huntsville, Alabama. Developed and designed by Lendlease, the hotel is part of the Privatization of Army Lodging (PAL) program, created to provide quality private-sector lodging for soldiers and their guests. Compared to typical PAL hotel of 54,891 square feet, Lendlease says the new 62,688-square-foot CLT hotel was erected in 37 percent less time, with a 44 percent reduction in structural person hours. In terms of structural performance, the hotel's location on a military base meant it also had to meet Anti-Terrorism and Force Protection standards.
Another project at the preconstruction stage is a 70,000-square-foot hotel/condominium complex in Austin, Texas. Known as a leader in sustainable design, architecture firm Lake|Flato was interested in whether mass timber could meet both structural and environmental objectives for a multistory building. The project includes five buildings, three of which use mass timber construction, with a combination of NLT, glulam, and prefabricated wood-frame walls.
Tall Wood
While most of this course focuses on structures that can be built under current U.S. building codes, a discussion of mass timber is incomplete without reference to wood high-rises. Many examples exist worldwide, illustrating the potential of mass timber to bring environmental and other advantages to higher-density projects. A recent Think Wood infographic (
www.thinkwood.com
) highlights 17 tall wood buildings built in the past five years, including:
Treet – Norway – 14 stories, 2014
Trafalgar Place – United Kingdom – 10 stories, 2015
Forté – Australia – 10 stories, 2012
Banyan Wharf – United Kingdom – 10 stories, 2015
Closer to home, architect Michael Green foreshadowed his work on the T3 project with the 96-foot-tall Wood Innovation and Design Centre in British Columbia, Canada. Completed in 2014, it is made from an innovative combination of glulam post-and-beam construction and built-up CLT floor panels. It includes six stories, plus a penthouse and mezzanine.
An 18-story student residence—one of the tallest mass timber buildings in the world—is also under construction at the University of British Columbia (UBC). The structure, Brock Commons, is a hybrid system comprised of CLT floor slabs, glulam columns, steel connectors, and concrete cores. Scheduled for completion in 2017, it has been designed to achieve LEED Gold certification.
UBC is a strong proponent of utilizing wood for its carbon benefits, and Brock Commons is just the latest of several mass timber buildings on its campuses.
In the United States, a number of tall wood buildings are in design, including the winners of the U.S. Tall Wood Building Prize Competition. Established by the U.S. Department of Agriculture (USDA), Softwood Lumber Board (SLB), and Binational Softwood Lumber Council (BSLC), the competition was the first step in a process to showcase the safe application, practicality, and sustainability of tall wood structures (minimum 80 feet in height) using mass timber, composite wood technologies, and innovative building techniques. It was created to provide scientific and technical support for the design and construction of tall wood buildings, and the winners received a combined $3 million in funding to further develop their projects.
In the Pacific Northwest, the developer/architect team responsible for The Radiator has also designed an eight-story (85-foot-high) residential building known as Carbon 12. The building includes a heavy timber gravity frame, CLT floors, and CLT core walls. The building is expected to break ground in late 2016.
Given that wood buildings over six stories are not currently within the prescriptive height limits of the IBC, designers of taller projects must follow an alternative means process in consultation with the Authority Having Jurisdiction over appeal of the building project. However, the ICC Board of Directors approved the formation of a Tall Wood Ad Hoc Committee. Comprised of stakeholders, code officials, and other interested parties, the committee studied tall wood construction, and their findings contributed to code changes for the 2021 IBC.
In January 2019, the International Code Council (ICC) approved a set of proposals to allow tall wood buildings as part of the 2021 International Building Code (IBC). Based on these proposals, the 2021 IBC will include three new construction types:
Type IV-A – Maximum 18 stories, with noncombustible protection on all mass timber elements.
Type IV-B – Maximum 12 stories, limited-area of exposed mass timber walls and ceilings allowed.
Type IV-C3 – Maximum 9 stories, all mass timber permitted to be exposed (with a few exceptions e.g. shafts) and designed for a 2-hour fire resistance.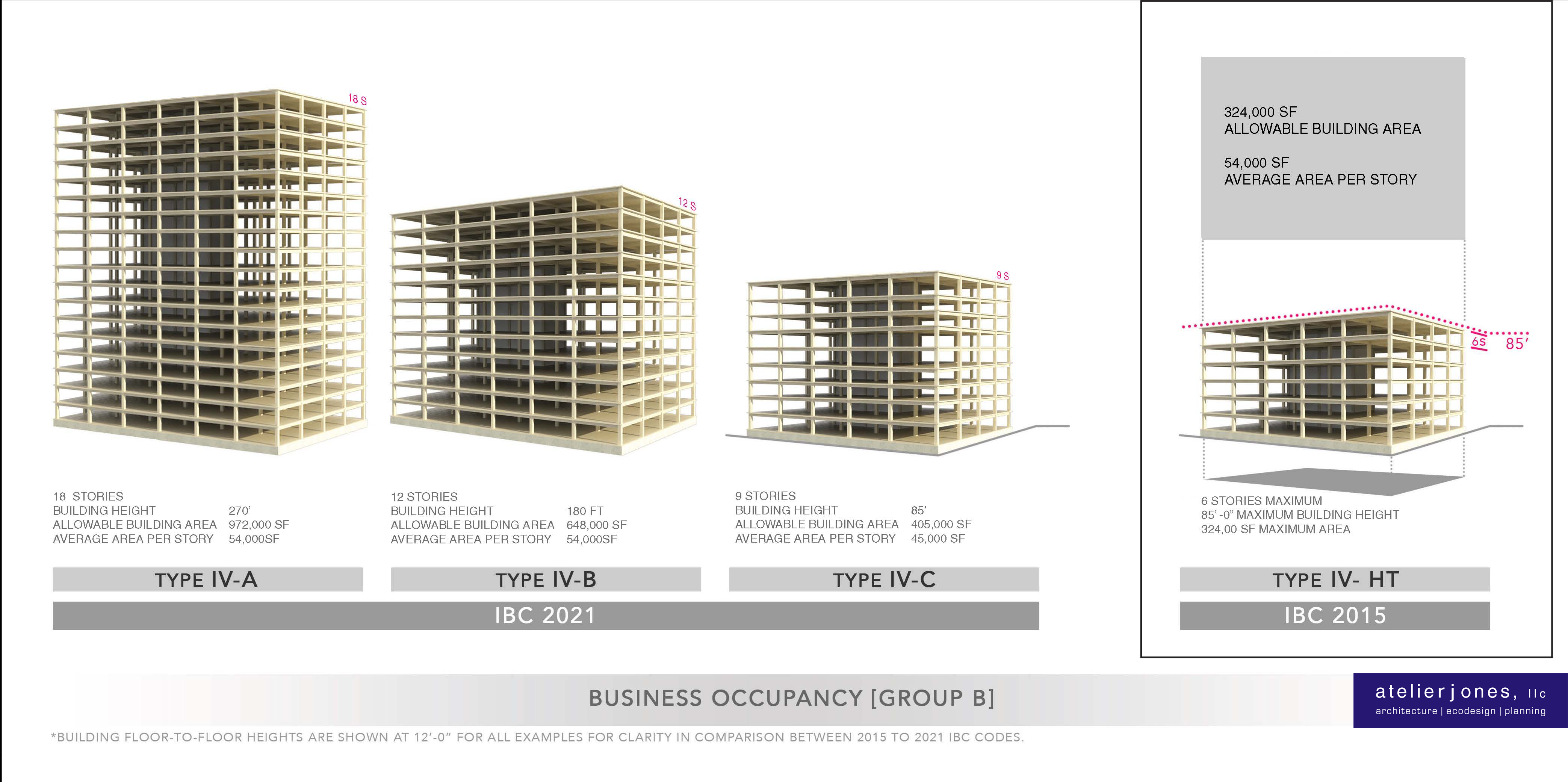 Photo courtesy atelierjones, LLC
These new types are based on the existing Heavy Timber construction type (renamed Type IV-HT) but with specified hourly fire-resistance ratings for building elements and added levels of noncombustible protection. The code will include provisions for up to 18 stories of Type IV-A construction for Business and Residential Occupancies. 4
A team of fire experts from the U.S. Bureau of Alcohol, Tobacco, Firearms and Explosives (ATF) working alongside scientists from the U.S. Forest Products Laboratory tested 5 identically furnished, one-bedroom apartments constructed of exposed, partially exposed, and unexposed (protected) five-ply cross-laminated timber (CLT). The rigorous series of fire tests demonstrated that mass timber construction performed equivalent to non-combustible construction and provided valuable data that was used in the development of code change proposals submitted by the ICC Ad Hoc Committee on Tall Wood Buildings (TWB) for the 2021 International Building Code. 5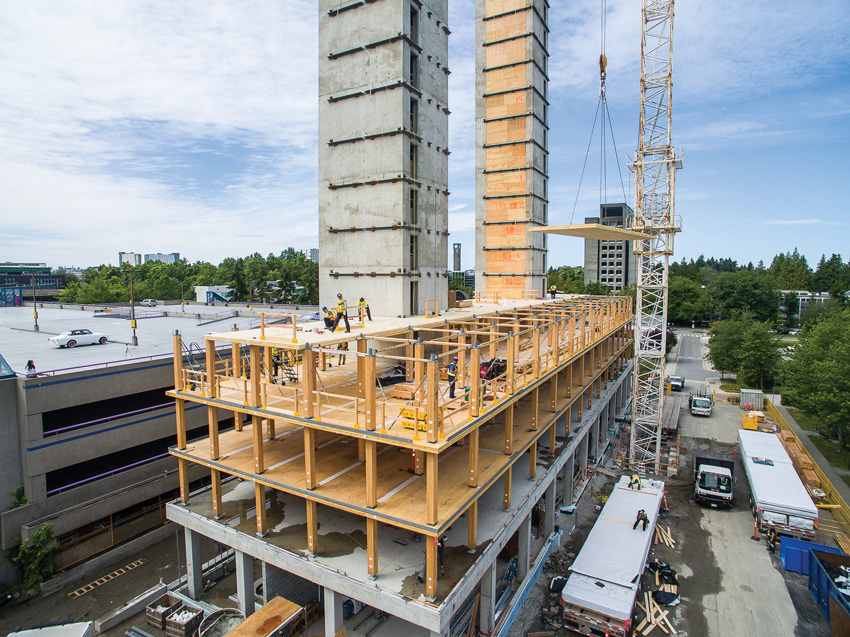 Photo courtesy of the University of British Columbia
Brock Commons
Location: University of British Columbia, Vancouver, Canada
Architect: Acton Ostry Architects
Structural Engineer: Fast + Epp
Structural Performance and Life Safety
There are a number of factors propelling the increased use of mass timber by North American building designers, most notably the precedent of mass timber structures elsewhere in the world, and the abundance of research demonstrating its safety and structural performance.
Because glulam and SCL have a long history in the market, a great deal of research and design data is available for these products. As such, this section focuses on recent research related to CLT and the viability of tall wood buildings.
In 2012, for example, the American Wood Council sponsored an ASTM E119 fire endurance test on CLT. A 5-ply CLT specimen (67/8-inches thick) was covered on each side with a single layer of 5/8-inch Type X gypsum wallboard loaded to the maximum load attainable by the test equipment. It was then exposed to a standard fire that reached over 1,800 degrees Fahrenheit in the first 90 minutes of exposure. While only seeking a 2-hour rating as required by building code provisions, the test specimen lasted 3 hours 6 minutes. This test, along with a series of CLT wall and floor tests conducted by FPInnovations, was used to substantiate the performance of CLT, leading to its recognition in the 2015 IBC.
Until a few years ago, CLT research centered largely on European-made products and design requirements of the European market, which is where most of the projects were being built. However, there has been a proliferation of recent studies and data specific to North America. Research is being supported by a variety of organizations, including the SLB, BSLC, USDA Wood Innovation Grant program, Natural Resources Canada, FPInnovations, and the Canadian NEWBuildS Network, as well as designers such as Arup.
Originally published in Architectural Record
Originally published in August 2016
Notice