Mass Timber in North America
Expanding the possibilities of wood building design
Sponsored by Think Wood
Office/Mixed-Use
For office environments, the aesthetic of mass timber can be a particular draw, resulting in higher rents and longer-term tenants.
The Radiator in Portland, Oregon—a five-story, Type IIIA project completed in 2015—is part of a surge of mass timber offices in the Pacific Northwest. Designed by PATH Architecture for the Kaiser Group, gravity loads for the 36,000-square-foot structure are handled through a system of glulam beams and columns, while a mass timber deck with wood structural panels creates the structural floor diaphragm, and dimension lumber walls sheathed with wood structural panels provide shear capacity. Beams, columns, and the underside of the floor decking are all left exposed, contributing to the interior's contemporary industrial character.
Further expanding the possibilities, the seven-story, 220,000-square-foot T3 building in Minneapolis, Minnesota, includes a mix of glulam columns and beams, NLT floors, and a concrete core. Architect Michael Green, a long-time advocate of using wood to reduce the carbon footprint of buildings, calls the Type IV project "a game changer for the commercial building industry and a milestone for mass timber construction in the United States." In addition to its carbon benefits, Green cites the ability of modern wood products to bring warmth and beauty to the interior, while promoting a healthy indoor environment.
Demonstrating some of the efficiencies associated with mass timber, the wood structure of T3 took an average of nine days to erect per 30,000-square-foot floor. More than 100 truckloads of glulam and NLT panels arrived as they were needed at the project site, with steel connections preinstalled, allowing the structural components to be assembled quickly. The project team estimates that it is 30 percent lighter than a comparable steel design and 60 percent lighter than post-tension concrete.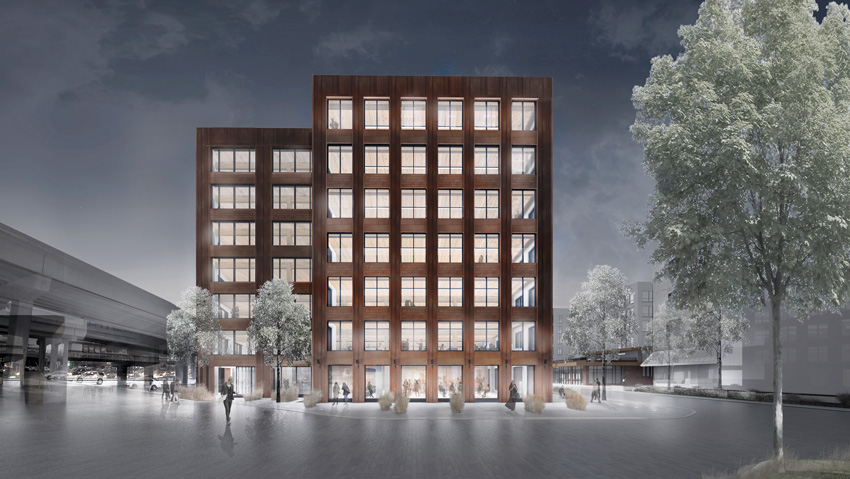 Image courtesy of Michael Green Architecture
T3
Location: Minneapolis, Minnesota
Design Architect: Michael Green Architecture
Architect of Record: DLR Group
Structural Consultant: MKA
Design Assist + Build: StructureCraft
Public and Institutional
Reasons to use mass timber in public and institutional buildings are similar to those for offices and schools, including carbon footprint, and wood's biophilic effects. The aesthetic possibilities are also exciting to many designers.
In the United States, examples include Chicago Horizon, a Type IV public pavilion designed by Ultramoderne for the Chicago Architecture Biennial. Elegantly crafted, this award-winning structure includes a CLT roof supported on 13 glulam columns distributed in a radial pattern to address lateral loads and uplift. The pavilion represents the first use of exposed CLT in the city of Chicago, providing local precedent for the approval and use of mass timber for government and public assembly applications. In addition, the two-way slab roof is the first of its kind, suggesting new opportunities for open-layout buildings made from CLT. The planned long-term use of the building as a commercial vendor and public assembly space is a significant and sustainable departure from the typical design exhibition model of temporary installations.
With a growing body of research supporting the positive impacts of wood on occupant well-being, there is also a trend toward the use of mass timber in healing environments.
Schools
Mass timber has a number of characteristics that make it attractive for schools and universities—from the ability to construct an entire project over the summer while students are off campus, to the potential efficiencies of replicable modular designs, a lighter carbon footprint, and the positive impacts of exposed wood on student well-being.
For a 14,000-square-foot addition to Common Ground High School in New Haven, Connecticut, for example, Gray Organschi Architecture and engineering partner Bensonwood chose a combination of CLT and glulam. CLT panels provide the tension surface (and final ceiling finish) in a system of prefabricated stressed skin assemblies that span the upper classrooms and circulation spaces. Vertical CLT panels form bearing and shear walls throughout the building, while glulam rafters and heavy timber trusses span a large ground-floor multipurpose space. A treated glulam bridge deck on laminated timber piers provides access from the upper campus.
Discussing some of the advantages of mass timber, Design Principal Alan Organschi says, "CLT and glulam can serve as both primary structure and finished interior surface at the same time. This creates efficiencies in deploying trades and sequencing construction, which has very real monetary implications. As the construction industry, accustomed to building institutional buildings like schools using conventional wall, roof, and floor assemblies, gains more experience with these versatile new timber products, greater production economies will accrue and more of timber's potential benefits—light weight, high strength, workability, etc.—will be captured."
Organschi also stressed construction speed. Assisted only by a mobile crane, a five-person assembly crew installed the entire primary structure and enclosure in just four weeks.
Regarding the impact of wood on students and teachers, he adds, "It's well-known that, as a hygroscopic material (cellular plant structure), wood surfaces serve as moisture buffers, moderating swings in interior humidity and thereby improving air quality. It's worth mentioning that during the first few weeks the new building was being used, a teacher commented to me that people were remarking on the freshness of the air in the classrooms. Anecdotal, I know, but it squares with the scientific predictions of health benefits of using wood (especially unfinished wood) in building interiors."
Common Ground High School is Type VB Construction, fully sprinklered, and was designed under the 2005 Connecticut State Building Code.
Another example, the Design Building at the University of Massachusetts – Amherst (UMass), features an exposed glulam post-and-beam structure, CLT decking and shear walls, CLT/concrete floors (rigidly connected by glued-in steel fasteners), and a 'zipper truss' roof spanning a two-story-high common space.
One challenging aspect of this project was that it started as a steel design. Keen to make the building a showcase for sustainability, the university made the decision to use wood part way through the design process.
Noting that he may have made different choices had he started with wood, architect Tom Chung of Leers Weinzapfel Associates said, "Generally, mass timber doesn't have to radically change the design concepts we already use; we can accomplish what we are already familiar with in steel and concrete. Steel post-and-beam can be done as glulam post-and-beam. Concrete/masonry shafts can be done in CLT. Steel/concrete floors can be CLT/concrete floors. A steel deck roof can be a CLT roof. Steel braces can be glulam braces. For the UMass project, we went step by step, asked ourselves what the precedents were and how we could go about maximizing the use of timber.
"If the project started out in wood and the primary objective was to design the most efficient mass timber building, then the shape and massing may have been more along the lines of a conventional 'box,' which is the shape of most of the mass timber structures built so far. But since there were other important design objectives, the UMass building has unique angles and cantilevers that required steel in addition to wood. Our goal was to use the most appropriate materials to meet the structural objectives at hand."
Chung also said that educating code officials is an important part of the process. The UMass project team was in constant communication with a Massachusetts state building inspector and, because the building represented a new type of construction, also went before the Massachusetts state board of appeals for official approval. The project was approved after the team was able to demonstrate its performance capabilities as well as the long history of mass timber structures in Europe and Canada.
Scheduled for completion in 2017, the UMass project is a combination of Type IV and IIB Construction.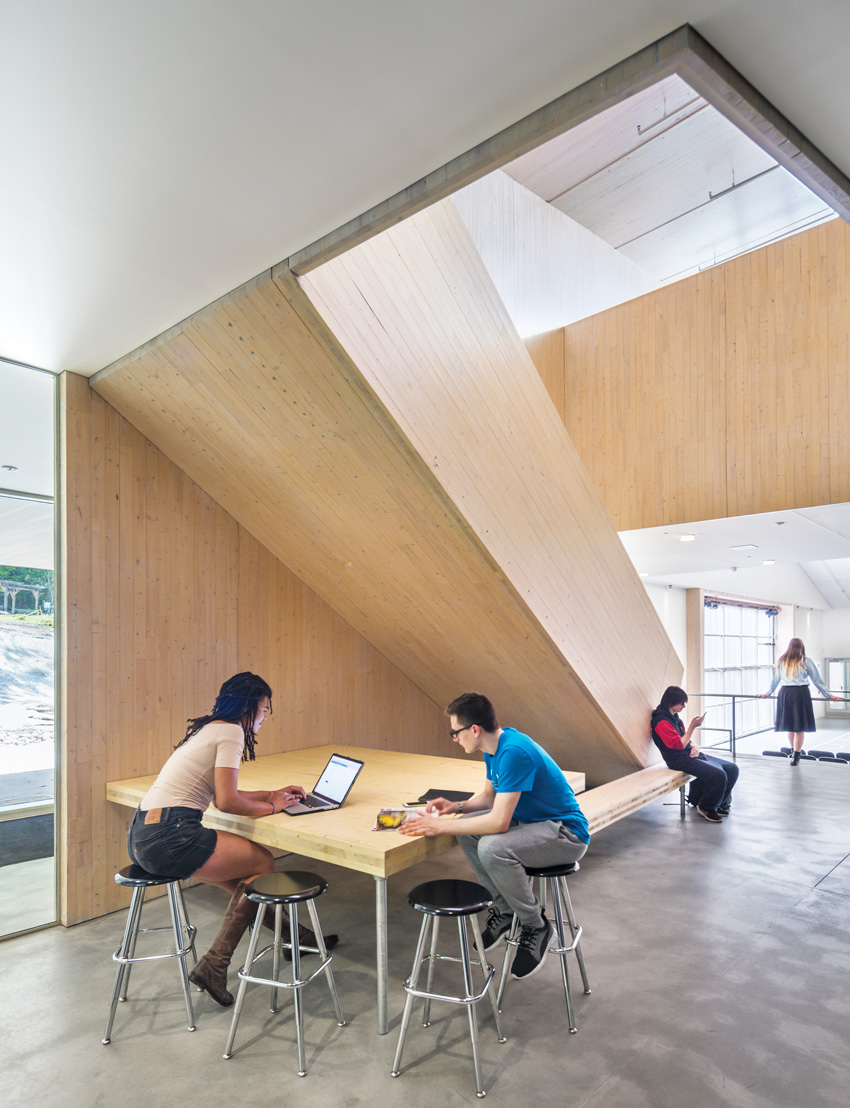 Photo courtesy of David Sundberg
Common Ground High School
Location: New Haven, Connecticut
Architect: Gray Organschi Architecture
Timber Engineer: Bensonwood
Originally published in Architectural Record
Originally published in August 2016
Notice