Designing for Earthquakes
Wood is a proven choice for seismic-resistive construction
Sponsored by Think Wood | Content provided by the American Wood Council
▶   Compliance with applicable codes and standards. Codes and standards governing the design and construction of wood-frame buildings have evolved based on experience from prior earthquakes and related research. Codes also prescribe minimum fastening requirements for the interconnection of repetitive wood framing members; this is unique to wood-frame construction and beneficial to a building's seismic performance.
In addition to their other advantages—such as cost-effectiveness and sustainability—properly designed and constructed wood buildings complying with building code requirements help make communities more resilient to seismic hazards, because they are proven to perform well during seismic events. In California, for example, where wood-frame construction is common for public schools, an assessment of the damage to school buildings in the 1994 Northridge earthquake was summarized as follows: "Considering the sheer number of schools affected by the earthquake, it is reasonable to conclude that, for the most part, these facilities do very well. Most of the very widespread damage that caused school closure was either non-structural, or structural but repairable and not life threatening. This type of good performance is generally expected because much of the school construction is of low rise, wood-frame design, which is very resistant to damage regardless of the date of construction."3
This continuing education course provides an overview of seismic-resistive design issues in wood-frame buildings with a focus on compliance with the 2015 International Building Code (IBC) and American Society of Civil Engineers/Structural Engineering Institute Minimum Design Loads for Buildings and Other Structures (ASCE 7-10). The information on code-conforming wood design contained in this course is based on the American Wood Council's (AWC's) 2015 National Design Specification® (NDS®) for Wood Construction, and 2015 Special Design Provisions for Wind and Seismic (SDPWS). The NDS and SDPWS are adopted by reference in the 2015 IBC.
Designing Wood Buildings to Withstand Seismic Forces
Seismic design forces are specified in the building code to allow for proportioning of strength and stiffness of the seismic force-resisting system. Structures with ductile detailing, redundancy and regularity are favored for seismic force resistance. These beneficial characteristics are specifically recognized in the seismic design requirements.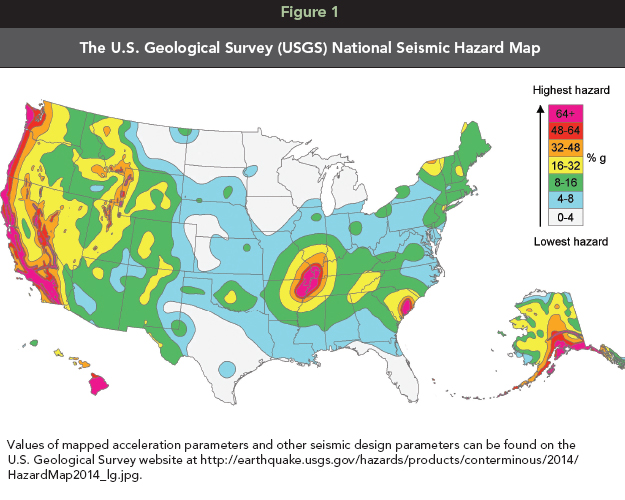 Source: U.S. Geological Survey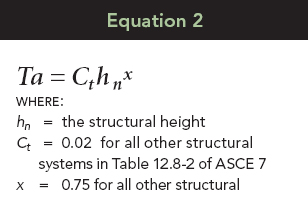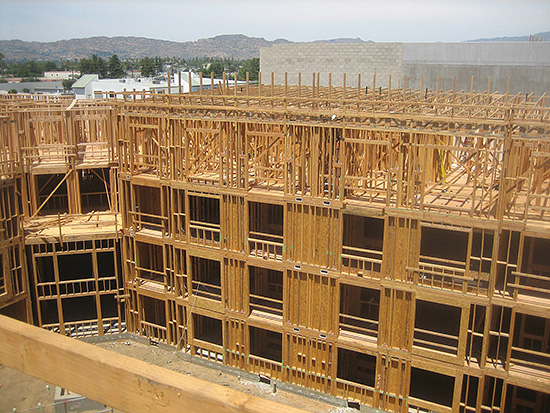 Photo: VanDorpe Chou Associates
Structures with ductile detailing, redundancy and regularity are favored for seismic force resistance. This structure includes repetitive wood framing and ductile nailed wood structural panel shear walls and diaphragms.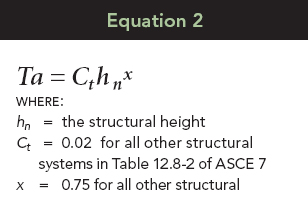 Originally published in Engineering News-Record
Notice