Best Practices for Legionella Mitigation – Part One
Provided by Plumbing & Mechanical Engineer
Learning Objectives:
Identify best practices to mitigate Legionella and other waterborne pathogens.
Discuss Legionella requirements in the Plumbing and Mechanical Codes.
Recognize the significant impact construction and renovation events can have on building water systems.
Explore water management programs and their role in preventing Legionnaires' disease outbreaks in health care facilities.
Credits:
BNP Media has met the standards and requirements of the Registered Continuing Education Program. Credit earned on completion of this program will be reported to
RCEP.net
. Certificates of Completion will be issued to all participants via the
RCEP.net
online system. As such, it does not include content that may be deemed or construed to be an approval or endorsement by the RCEP.
As an IACET Accredited Provider, BNP Media offers IACET CEUs for its learning events that comply with the ANSI/IACET Continuing Education and Training Standard.
This course may qualify for continuing education through the FBPE.
This course may qualify for continuing education through the NYSED. For further information, please visit the NYSED website at
http://www.op.nysed.gov/prof/pels/peceques.htm
.
Purpose statement:
The purpose of this course is to examine the need for better plumbing design and mitigation efforts as Legionella outbreaks rise and explore how to use water management plans to prevent construction-related Legionnaires' disease.
Best Practices for Legionella Mitigation
Rising Legionella outbreaks underlay the need for better plumbing design, mitigation efforts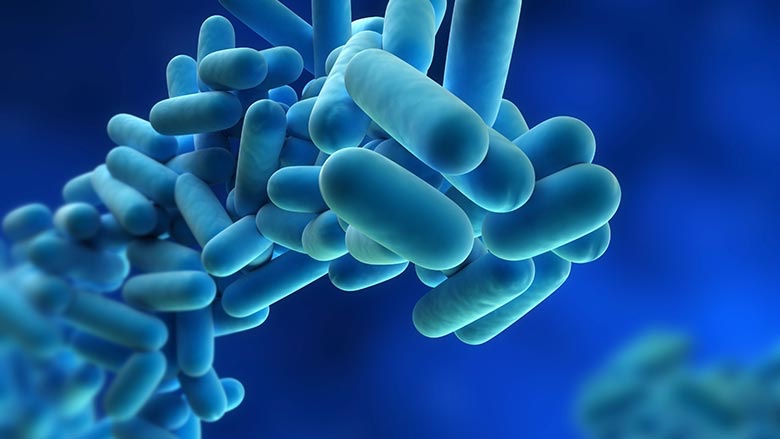 There's no doubt the plumbing industry has had a hyper-focus on Legionella and prevention over the past few years. Yet a simple search on Google reveals outbreaks in an Illinois prison, a Hawaiian hotel and in Riverside County, California — all within the past two months.
"As bacteria is formed and spread through water, the older America's water infrastructure becomes, the chances for Legionella outbreaks increases, especially in states that have warmer climates," explains Matt Sigler, PMG Executive Director for the International Code Council (ICC). "A common way the bacteria forms is through lukewarm water temperatures as it thrives in water that ranges from 77°F to 113° F, making it a potential breeding ground for the bacteria. Additionally, water that is stagnant within a piping system runs the risk of having disinfectant dissipate, inviting the potential growth of Legionella bacteria."
Legionella is still very much present — and abundant — in today's buildings, according to Bruce Fathers, senior product manager for Watts.
"A facility manager's ability to fully eliminate the risks of this bacteria has a lot to do with proper system design and water management," he says. "Another thing to consider is that buildings may be renovated or enlarged — work that can greatly impact a plumbing system's susceptibility to Legionella. Building renovations are often one of the leading causes of plumbing system dead legs — when piped systems are altered, they can create unforeseen problems. Also, maintenance schedules cannot be ignored. This can happen during staff turnover."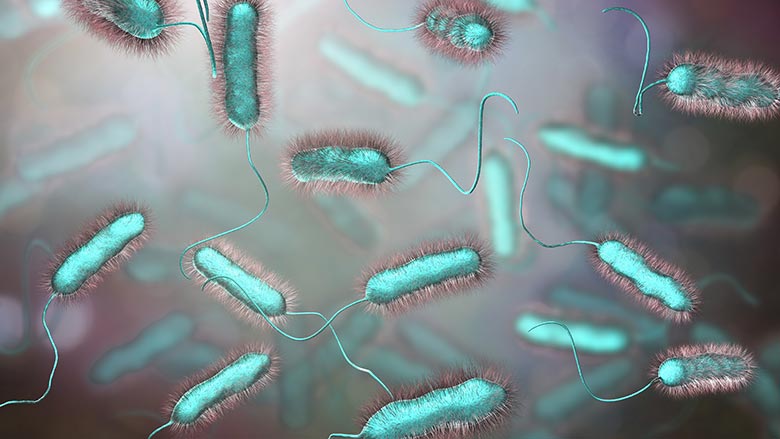 Fathers notes that there is also a tendency among facility managers to save energy by reducing water storage or distribution temperatures, which can allow bacteria growth.
"Another condition ideal for opportunistic bacteria growth are the use of low-flow plumbing fixtures," he adds. "Not long ago, fixtures may have been rated at 2.5 gpm. Driven by water conservation efforts, the popularity of fixtures with ratings of 0.25 gpm to 1.5 gpm, Legionella bacteria can prosper in slower-moving distribution piping runs, protected by insulative biofilm."
The plumbing industry is more aware, especially in health care facilities, of the risks associated with Legionella which has led to increased surveillance of the disease, says Special Pathogens Laboratory (SPL) Consulting Services Vice President Dave Pierre, who is also an ASSE-certified Legionella Water Safety and Management specialist.
"Legionnaires' disease has always been underdiagnosed, so the increased awareness has led to us doing a better job at identifying cases of disease," he explains. "Additionally, we have a lot of aging infrastructure, ongoing construction and renovation of buildings. We know these events and conditions can increase the nutrients in the water for Legionella and other waterborne pathogens to proliferate. Also, globally, we have increasing source water temperatures which leads to a more suitable environment for Legionella to grow. The last piece of the puzzle is our aging population. As our population ages, we have more people falling into our 'at-risk' groups, including growing elderly and immunocompromised populations. Did you know that the risk increases at the young age of 50?"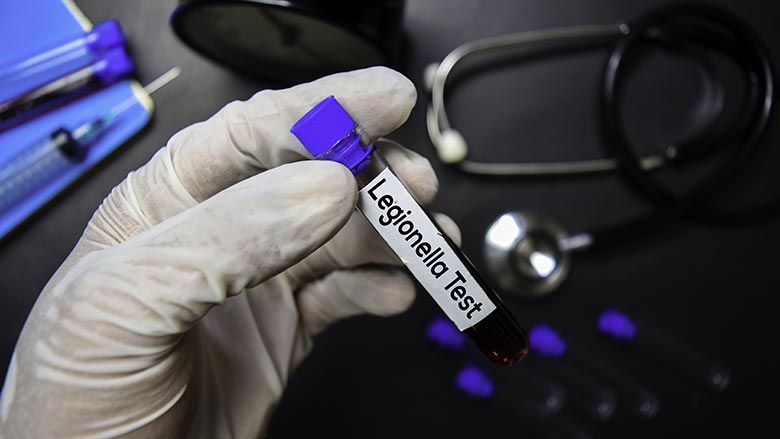 Water safety is key to prevention
While cases of Legionnaire's disease have increased nine-fold between 2000 and 2018, John Lansing, plumbing designer for Portland, Oregon-based PAE Engineers, notes there is still very little oversight and regulation regarding Legionella.
"When I say Legionella, I mean specifically Legionella mitigation practices in the building water systems," Lansing says. "And while Legionnaires' disease cases have increased on an international level, it's significantly less pronounced in other countries. For example, the United Kingdom has some of the lowest cases of Legionnaires' disease in the world. It's still a big problem, just not to the extent it is here in the U.S. It really comes back to how important Legionella mitigation practices are — that's something the UK has shown leadership with. The Chartered Institute for Building Service Engineers (CIBSE) in the UK published TM13 back in 1987 after the Stafford District Hospital Legionnaires' disease outbreak. TM13 is basically the British equivalent to ASHRAE 12. The UK has had mitigation practices in place for a very long time. They also have standard monitoring practices, inspections and liabilities in place to address Legionella growth and Legionnaires' Disease. We're starting to see some of this implemented here in the US too, which is really good news."
Lansing also notes it's important to follow what is outlined in ASHRAE 188 as far as what buildings are considered high-risk. Spoilers: It's not just healthcare. Multi-family residential buildings, as well as senior living facilities and buildings above 10 floors are all considered high-risk as well — something not everyone realizes.
"Increasing the domestic hot water circulation temperature is one of the key things for sure," Lansing says when it comes to Legionella mitigation. "We need to be commissioning domestic hot water systems prior to occupancy for new buildings and also in existing buildings, ensuring the temperature is maintained above 120° F throughout the supply and return piping of the circulation system — and that number comes from ASHRAE 12. Once that is completed, it's all about monitoring and maintaining those temperatures. Testing for Legionella is also key and has become much more accessible in recent years.
"Let's take a look at Denmark for example," he adds. "Denmark requires a minimum storage temperature of 140°F, and a minimum piping temperature of 122° F. Those numbers match what the UK uses identically. However, Denmark has more than 5 times the amount of Legionnaire's disease cases. Now, why is that? There are likely a lot of factors that contribute to this difference but without making any conclusive statements, but the domestic hot water design and maintenance is thought to be a core factor. A recent study from the Statens Serum Institute conducted an investigation of 104 buildings in Denmark and found that 66% of the buildings were operating below the minimum temperature requirement of 122° F, and 14% were operating below 113° F. Sampling and testing showed 40% of the buildings assessed contained Legionella counts above 10,000 CFU/L, well above the 1,000 CFU/L threshold where immediate action would be necessary. So regulation, monitoring and implementation are imperative because a standard is no good otherwise."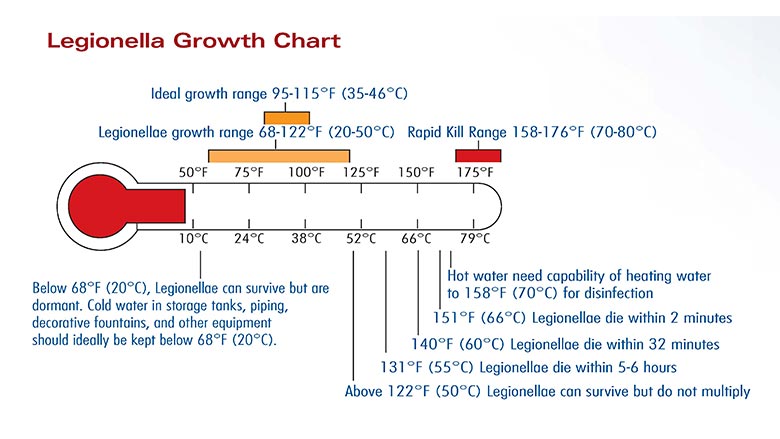 John Mullen, director of technical services for IAPMO, notes that Legionella prevention methods in existing buildings may be different each time. However, the industry can focus on educating building operators on current best practices by helping them modify outdated standard operating procedures as it relates to building water systems.
"Performing in-depth reviews of normal building operating parameters on a regular basis allows building owners to keep a pulse on the efficacy of their programs," Mullen explains. "By doing the hard work and performing program validation on a continuous basis, operations teams will feel more confident in their understanding when it comes to mitigating the risk or managing an outbreak.
Considering my time spent working in critical environments, I know very well that facilities operation teams have a lot on their plate. The resources available to building management teams are often severely stressed and tend to lack innovation because of that daily stress.
"If we can fix this gap with continuing education and provide resourceful platforms for discussing the perils of water management, we would all be better for it," he adds. "Open sourcing information as it pertains of new investigatory tactics and common areas of neglect in critical environments will surely sharpen everyone's swords."
According to Fathers, the best way to eliminate Legionella bacteria is for facility managers to have a multi-barrier systems approach and water management plan.
"Its key facets include higher storage temperatures with ASSE 1017 thermostatic valve protection and proper distribution temperatures driven by legionella mitigation guidelines, with ASSE 1016/1069/1070 thermostatic valves at all points-of-use," he says. "In addition, facility hot water management sanitation should include ultraviolet (UV) treatment, point-of-entry (POE) and point-of-use (POU) filtration, and treatment regimens like copper silver ionization, and chlorination. With the growing popularity of digital mixing stations – like IntelliStation – hot water purging and mitigation protocols can be met with ease. A digital mixing system can send highly-heated water out through distribution piping to all points-of-use. Typically this is accomplished in a facility in a very deliberate fashion, zone by zone, to assure thorough sanitization and safety of occupants."
Pierre notes that Legionella bacteria enter buildings when — and if — the source water brings them to our door. "The rule of thumb is about half of large buildings will be colonized with Legionella bacteria. For example, our study on high-rise buildings in New York City showed only 54% (15/28) were colonized with Legionella. Once Legionella has colonized a building warm water system, there is no "silver bullet" or "one size fits all" to prevent the risk of Legionella.
"Implementation of a robust water safety and management plan and validating that plan with routine testing for Legionella is the best way to understand and manage the risk," Pierre continues. "The control measures, corrective actions and mitigation methods in the water management plan should be evidence-based with publications or references showing efficacy against Legionella. One of the most important things to remember is that we don't need to eradicate Legionella from our building water systems to reduce the risk of disease. Our goal is zero cases of disease, not necessarily zero Legionella. For a building with Legionella colonization, it can be virtually impossible to completely eliminate all Legionella, and thankfully, that unrealistic goal is not needed to reduce the risk of disease occurrence."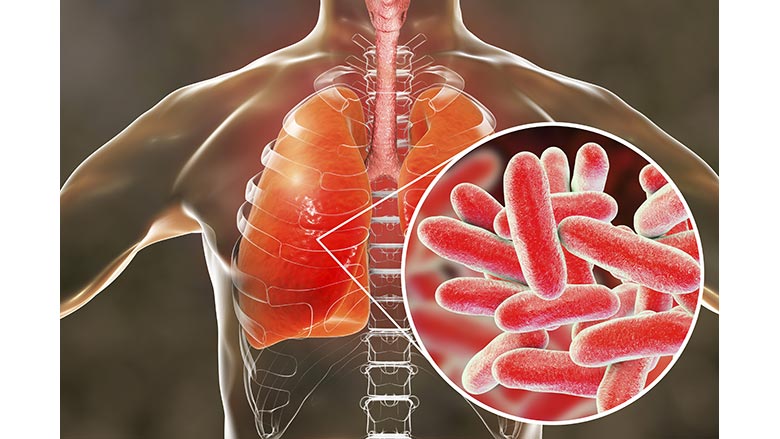 Originally published in August 2022
Notice