Multifamily Buildings with Multiple Design Criteria
Balancing user desires, operational needs, performance, and design
Sponsored by Cascade Architectural, CRL, Geberit, Inpro, and Tamlyn
Learning Objectives:
Investigate the beneficial attributes to people of large-scale fenestration as balanced with energy and environmental efficiencies in multifamily buildings.
Assess options for interior design that enhance wellness, innovation, and safety as applied to both private and public spaces in buildings.
Explain the significance of properly used expansion joints and security grilles for building integrity and the safety of people and protection of property.
Determine the options to incorporate in-wall plumbing fixtures to enhance cleanliness, health, and compliance with accessibility requirements in living units.
Credits:
This course can be self-reported to the AIBC, as per their CE Guidelines.
This course is approved as a Structured Course
This course can be self-reported to the AANB, as per their CE Guidelines
Approved for structured learning
Approved for Core Learning
This course can be self-reported to the NLAA
Course may qualify for Learning Hours with NWTAA
Course eligible for OAA Learning Hours
This course is approved as a core course
This course can be self-reported for Learning Units to the Architectural Institute of British Columbia
This test is no longer available for credit
Multifamily living remains very popular across the country as reflected in rising rental rates and robust competition between properties. Designing living units means that they can be part of low-rise, mid-rise, or high-rise buildings that are either wholly residential or contain mixed uses. Construction materials, building envelopes, and enclosures can be selected from a wide range of choices. All these aspects need to come together in a manner that is appealing, durable, and competitive. At the same time, sustainability has become an expected attribute of building owners and occupants. This course delves into these issues with an eye toward some current options to help successfully achieve a balance between these multiple design criteria.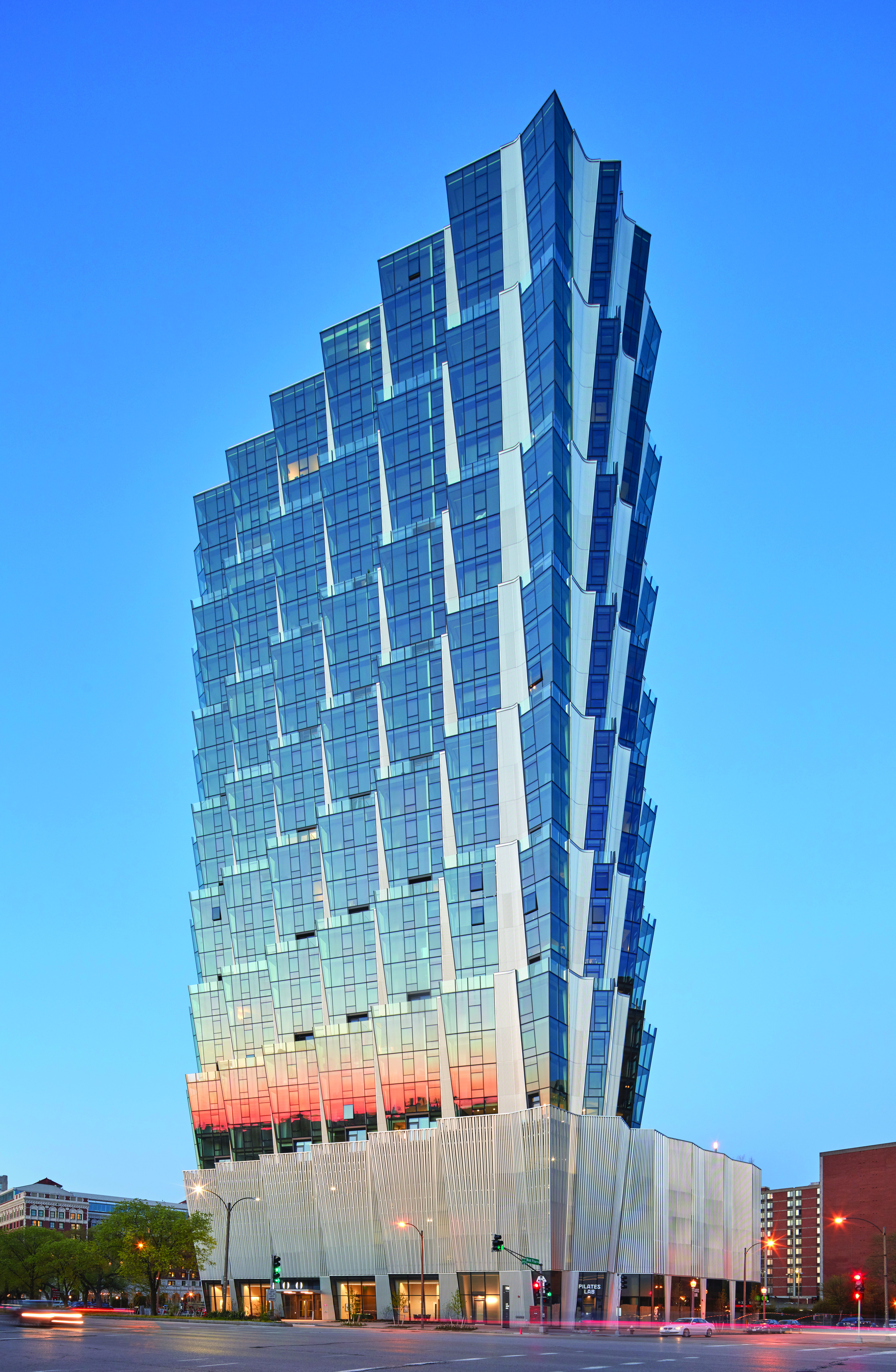 Photo courtesy of Tom Harris and CRL
The design of multifamily buildings needs to meet many different criteria to meet the needs of owners, occupants, location, and operations, such as the "One Hundred" residential tower in St. Louis, Missouri, designed by Studio Gang.
LARGE-SCALE FENESTRATION FOR VIEWS AND THERMAL CONTROL
Multifamily designs often seek to provide occupants with expansive views and a visual connection to the surrounding landscape or cityscape. Manufacturers of larger format fenestration recognize this design need and offer products that are easily incorporated into a variety of building design schemes. The expansive views that some glass fenestration systems offer serve to enhance the occupant experience, which is why they are a sought-after feature in many of today's multifamily developments.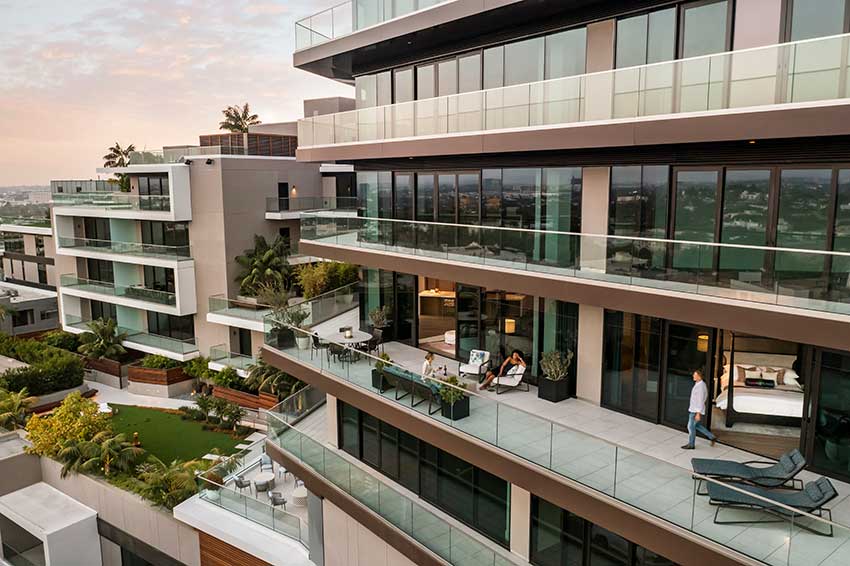 Photo courtesy of Here and Now Agency and CRL
Large-scale fenestration systems are commonly used in multifamily projects to connect building interiors to outdoor spaces, views, daylight, and ventilation.
Architects however must be careful when specifying fenestration systems that offer all-glass visuals. The reason is that more glass typically means lower thermal performance—a key aspect to sustainable design. Fortunately, manufacturers of architectural glazing systems have caught on. Innovations in product engineering have produced large, movable glass wall systems with ultra-slim frames that offer virtually uninterrupted views while effectively mitigating heat transfer using thermal breaks and insulating glass. Maintaining comfortable interior temperatures places less strain on heating and cooling systems throughout the year, thus enhancing the energy efficiency of multifamily developments.
From a total building design standpoint, multifamily units often have fenestration limited to one or two sides of the units. In some cases, the building is designed so windows or views are similarly focused on only one or two sides of a building. That means the total amount of fenestration in a building can be controlled for overall energy performance, but a living unit can appear to have large scale, dramatic openings.
Mark Suehiro is Technical Director of the CRL Entrances & Partitions Group and has been deeply involved in this issue. He points out "When it comes to fenestration systems in modern multifamily building design, architects must find a balance between aesthetics and thermal performance." He notes that the fenestration industry is able to find this balance with two types of large-scale fenestration systems: sliding and bi-folding movable walls. These have multiple applications in contemporary multifamily developments, but the most common include large upper-level units with wide openings to exterior balconies, and as interior/exterior space dividers in social spaces like community clubhouses, rooftop pools, and gyms. When specified correctly, these systems can enhance the building's visual appeal, durability, and sustainability.
Sliding Operable Walls
New exterior sliding door systems act as movable walls and offer a grand scale and sophisticated design that makes a visual statement. They are typically custom manufactured to suit a particular project, with panel heights up to 13 feet and widths up to 7 feet. That means they can provide an elegant solution that fits seamlessly with contemporary project designs. They are also offered with a minimal profile using an ultra-slim 1-5/16" panel frame.
Among the available thermal performance features of these sliding glass walls, thermally broken frames with 1-inch insulating glass are common and can achieve a U-factor of 0.38. This configuration also has the capability to provide sound attenuation with ratings on the order of STC-33. The frames can be finished in a range of standard colors. Custom colors are also available from some manufacturers.
Despite the large sliding panels, this type of door is engineered to provide fairly effortless, one-handed operation. Panel loads, up to 700 pounds, are evenly distributed across a bottom rolling system with stainless steel wheels resulting in a fluid, frictionless glide. Precision-engineered stainless-steel tracks further facilitate panel movement. Operation can be automated or manual using a built-in door handle or groove. Due to the larger size of the doors, the locking mechanism is typically a multi-point system. The door sills can be flush to provide a seamless floor transition between the inside and outside of the doors or raised for greater protection against weather conditions. It's important to note the cycle testing of these systems since they speak to its long-term durability. A 40,000 cycle test is as good as it gets for these types of sliding door systems.
Altogether, expansive sliding doors provide an attractive and efficient solution for large format fenestration in multifamily buildings.
Large Scale Bi-Folding Glass Doors
In addition to large-scale sliding doors, the latest bi-folding glass door systems also offer advancements in aesthetics and thermal performance. These systems are characterized by multiple hinged panels that can stack to one side to allow for a complete opening between rooms or between interior and exterior environments. This is particularly appealing for designs that seek to create seamless transitions between interior and exterior spaces while maximizing ventilation and daylighting. When closed, bi-folding door systems offer minimal obstruction to preserve views and can seal up tightly to effectively protect against air and water infiltration. They can feature thermally broken frames and 1" double-pane insulating glass that together produce standard U-factors of 0.36 to help keep interior temperatures at a comfortable level year-round, which puts less strain on air conditioning systems.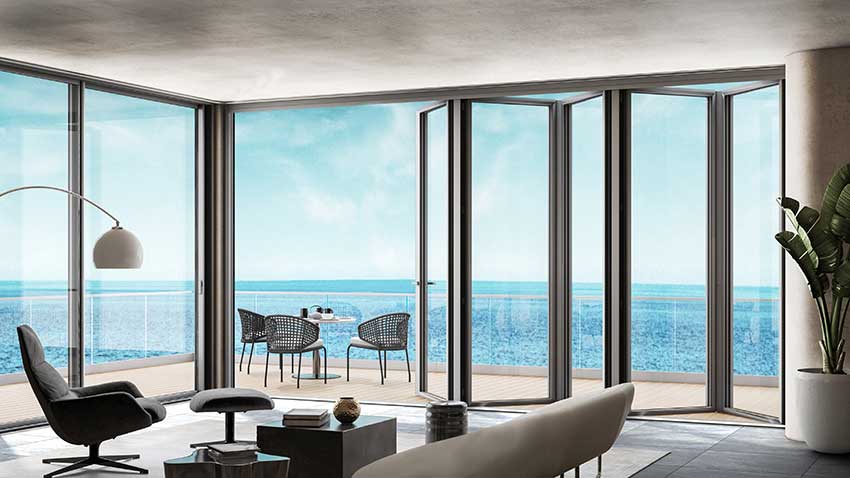 Photo courtesy of CRL
Bi-folding glass doors create large scale operable walls that allow ample daylight and views while meeting needed thermal performance criteria.
On the aesthetic side, the latest bi-folding doors feature 12-foot frame heights, slim 4-3/4" vertical sightlines, and ultra-narrow 1-7/16" panel rails. Together, this lessens obstructions to help preserve views. When closed, door hinges are completely concealed to deliver a minimal, streamlined look.
Similar to sliding doors, bi-folding door systems are engineered to provide easy operation. Panel loads can be mounted on a bottom rolling system to eliminate strain on overhead beams. The panel widths are typically four feet with a maximum height of 12 feet. The sills for bi-folding door systems can also be flush to provide a seamless floor transition between the interior and exterior or raised to provide better resistance to water and air infiltration.
Overall, sliding and bi-folding movable walls represent two innovative solutions to enhancing the energy efficiency and aesthetics of contemporary multifamily buildings. All in all, these systems elevate the resident experience and benefit a multifamily building's long-term sustainability.
Fenestrations Performance Standards
The most widely recognized and relevant standard for fenestration is the North American Fenestration Standard (NAFS), which governs windows, doors, and skylights. Known as AAMA/WDMA/CSA 101/I.S.2/A440, this standard is familiar to many specifiers and fenestration manufacturers and includes four Performance Grade categories. Classification of products is based on independent testing on the design pressure of wind forces acting on the fenestration (measured in pounds per square foot—psf) at a stated pressure difference (measured in pascals Pa). The entry level, or "gateway," criteria for tested fenestration units in each of the Performance Grades is as follows:
R Class (Residential) Fenestration: 15 psf (720 Pa) This class is commonly used in one- and two-family dwellings.
LC Class (Light Commercial) Fenestration: 25 psf (1200 Pa) This class is the minimum designation appropriate for low- and mid-rise multifamily dwellings and other buildings where larger sizes and higher loading requirements are expected.
CW Class (Commercial) Fenestration: 30 psf (1,440 Pa) This newest class is better suited to low- and mid-rise buildings where larger sizes, higher loading requirements, limits on deflection, and heavier use are expected.
AW Class (Architectural) Fenestration: 40 psf (1,920 Pa) This is geared toward mid- and high-rise buildings to meet increased loading requirements and limits on deflection in buildings where frequent and extreme use of the fenestration products is expected.
Originally published in Architectural Record
Originally published in September 2022
Notice