Building confidence in enhanced health and welfare decisions through third-party material certifications
Sponsored by Cascade Architectural and Garden on the Wall®
Learning Objectives:
Discuss the importance of third-party testing as a tool for ensuring product quality.
Through material declarations such as the Declare label, discuss how material transparency enhances design decision making, with a particular emphasis on health and wellness goals as well as certification goals from programs including LEED v4.1 and WELL v2.
Describe the independently certified performance aspects of woven wire fabric and compare the naturally antimicrobial properties of copper against chemical antimicrobials and how these can contribute to certifications including LEED v4.1.
Specify key certifications for preserved garden installations and discuss the benefits of these installations for occupant mental health in workplace and healthcare settings, as well as their qualifications under WELL v2 and other programs.
Credits:
This course can be self-reported to the AIBC, as per their CE Guidelines.
As an IACET Accredited Provider, BNP Media offers IACET CEUs for its learning events that comply with the ANSI/IACET Continuing Education and Training Standard.
This course is approved as a Structured Course
This course can be self-reported to the AANB, as per their CE Guidelines
Approved for structured learning
Approved for Core Learning
This course can be self-reported to the NLAA
Course may qualify for Learning Hours with NWTAA
Course eligible for OAA Learning Hours
This course is approved as a core course
This course can be self-reported for Learning Units to the Architectural Institute of British Columbia
This test is no longer available for credit
Traditional development is, officially, a thing of the past. Developers, designers, architects, and builders are rethinking development and design to improve the health and well-being of individuals and the community as a whole. Third-party certifications offer the assurance of performance in today's dynamic and innovative market sector. They allow for confident selection and installation of cutting-edge materials and products, securing the best indoor environmental quality (IEQ) to improve the health and well-being of individuals, while also creating an attractive and high-investment return for developers and builders.
When addressing IEQ, knowing with certainty what is in each product becomes crucial. Specifying materials is a complex and time-consuming project, requiring knowledge about the comfort, health, and safety of occupants, the interaction of building systems, and an understanding of how to control common indoor pollutants to provide quality indoor air. Selecting a material type is the beginning of a process that includes taking steps to mitigate exposure to VOCs and minimize the impact of any cleaning and maintaining. There are numerous programs, organizations, and certifications that can assist in determining the right materials for the building, occupants, and activities.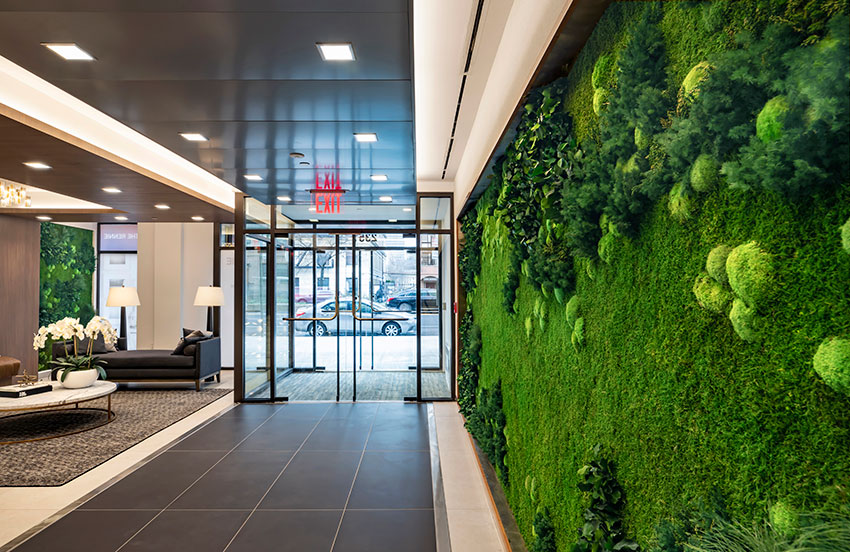 Photo courtesy of Garden on the Wall®
The impact of material choice has a powerful role to play in augmenting overall occupant welfare.
Standing Behind Materials And Products: Assurance From Third-Party, Independent Certification
"Of all conformity assessment procedures that give assurance that a product, process, or service conforms to specified requirements (safety, health, and the environment), third-party certification provides the greatest value," according to the American Council of Independent Laboratories (ACIL).1 The most authentic and trustworthy certifications are those awarded by an independent third party that has no business or monetary relationship with a product's manufacturer, or with a building's contractor, designer, or specifier.2 Third-party certification is valuable because it is independent. Independent testing produces safer and more reliable products, it bolsters product acceptance in the marketplace and boosts consumer confidence, and it distinguishes manufacturers making compliant products. Third-party certification systems are also transparent. Transparency in testing means that the certification uses clear and standardized specifications to assess products, systems, or buildings.
Given its independence and transparency, third-party certification is especially valuable in bringing to market safer and more reliable products. According to ACIL, products that are third-party certified tend to have immediate acceptance in the marketplace because consumers, retailers, and distributors recognize and have confidence in the third-party certification mark. Third-party-certified products are tested and certified through surveillance and verification of continued compliance. The product not only performs well but has been tested to comply with safety, health, or environmental standards. Any product claims have been verified independently, rather than relying on a manufacturer's word. Audits of a manufacturer's facilities prior to certification also occur under certain certification systems, allowing consumers to understand how a product or material is produced and providing a transparent view into the product's life cycle.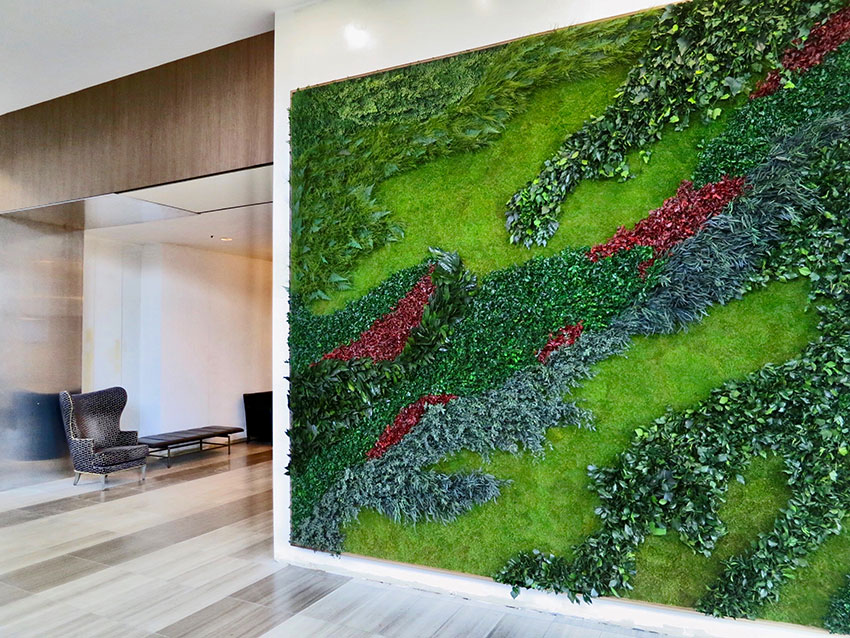 Photo courtesy of Garden on the Wall®
Preserved garden installations are much more efficient than living walls and plants due to their longevity and low energy consumption, including no need for water irrigation, specific light, avoidance of soil infestations, and no trimming and pruning or periodic maintenance.
Materials In Use: Certified Garden And Plant Designs To Enhance IEQ
Stephen Baker of Baker Design Group, who designed the LEED Platinum TripAdvisor World Headquarters in Needham, Massachusetts, takes seriously the design of workspaces to increase employee satisfaction and productivity.
TripAdvisor HQ received LEED Platinum certification by the U.S. Green Building Council in 2017, the highest green rating achievable. TripAdvisor HQ achieved LEED certification for implementing practical and measurable strategies and solutions aimed at achieving high performance in: sustainable site development, water savings, energy efficiency, materials selection, and indoor environmental quality.
The TripAdvisor team completed the 280,000-square-foot interior fit-out project in 2015, and with their dedication to innovation and sustainability, the team exceeded the original goal of LEED Gold certification.
"Good office design," Baker said, "incorporates as many of the best environmental elements as possible, including spaces that accommodate different working styles, beautiful and comfortable furniture to support each working style, integrated audio visual and internet technologies, fresh air, natural light, good artificial light, acoustic design, and biophilic design. If all these elements are brought together successfully, along with a sense of hospitality (which means treating your employees like guests in your home) you will find that employees will be able to focus or collaborate better, feel less stressed, and be happier about their work. Companies with well-designed working environments often find it easier to hire new employees, and the existing employees stay longer."
Bringing the outdoors in is a growing focus in development today. Biophilic design recreates patterns of nature inside by harnessing natural light, incorporating natural materials like wood, stone, water, and plants, and capturing views of landscapes outside. These designs enhance IEQ by increasing workplace efficiency, encouraging environmental responsibility, and boosting community well-being. Elements of biophilia stimulate cognitive function, lower blood pressure, reduce stress levels, balance hormone levels, and may even contribute to longevity, according to a recent Harvard study.
However, including greenery and plantings in indoor designs can be a challenge, as plants require water, soil, fertilizer, and upkeep. Introducing plants, while beneficial, raises the challenges of addressing additional relative humidity and moisture load within the building, as well as occupant exposure to new allergens.
An Introduction to Preserved Plants
A principal driving force of creation is need. Stepping into the gap to balance desire for biophilic design against the issues involved in live plant introduction is the concept of preserved plants. Launched initially by Patrick Blanc's concept of 'Mur Végétal' in 1998, plant and flower foliage are harvested at their peak to attain maximum vibrancy. Once harvested, a nontoxic, plant-based, and biodegradable preservation liquid is used to replace the plant sap. Garden installations created with preserved plants require no water, no misting or irrigation, no sunlight, no soil, and no trimming or pruning, but retain their vibrancy, fresh-cut look, and feel for a minimum of five years, with a typical installation lasting between seven to 10 years.
Preserved garden installations are custom created following a design and sketch rendering process and are installed by a trained crew to ensure visual, longevity, and safety standards are met. Depending on the manufacturer, it is possible to refurbish garden installations to extend their life span for an additional five years by reintroducing the preservation solution at the display location.
Preserved garden installations provide excellent value as they facilitate integration of maintenance-free nature to interior designs, allowing significant savings by avoiding monthly maintenance required for living walls. Preserved garden installations are much more efficient than living walls and plants due to their longevity and low energy consumption, including no need for water irrigation, specific light, avoidance of soil infestations, and no trimming and pruning or periodic maintenance. This results in a significantly lower carbon footprint when compared to both fresh-cut and artificial plants.
Preserved gardens are, however, for interior applications only where the temperature should be between 60-85°F with a humidity of less than 70%.
Typical plant species available include moss, fern, eucalyptus, flower foliage, and certain tree foliage. Flat moss commonly acts as a canvas for the installation.
Materials In Use: Certified Copper-Clad Steel Designs To Enhance Health And Welfare
Architectural metal mesh creates unique design applications for architects and interior designers, in both exterior and interior applications. In design situations where a need arises to deliver a degree of separation, for safety, or to differentiate spatial uses, a solid wall or partition may not be needed. In fact, it is often desirable to provide for some connectivity between spaces for visual, airflow, sound, or other benefits. An emerging, innovative material choice is the use of coiled wire fabric.
Woven or coiled wire fabric is a versatile product with wide-ranging applications and functions. It is a durable, thin material that is lighter in weight than traditional free-standing partitions and offers more design flexibility. For interiors, architects and engineers can use coiled wire fabric for curtains, ceiling treatments, wall coverings, security gates, and even as complete partitions. Coiled wire fabrics are available with a range of attachment systems, allowing for different building conditions and finish treatments.
Coiled wire fabric manufacturing begins with a base metal wire, typically available in varieties of steel, aluminum, brass, copper, or stainless steel. Architectural metal mesh material and gauge can be selected based on desired weight, functionality, and aesthetics. The naturally strong and durable coiled wire fabric material looks and performs like traditional architectural metal mesh at a more affordable price point.
Originally published in Architectural Record
Originally published in July 2022
Notice