Designing for Fire Protection
Expanding the possibilities of wood design
Sponsored by Think Wood

1 AIA LU/HSW; 1 AIC CPD; 1 GBCI CE Hour; 0.1 IACET CEU*; 1 PDH*; AAA 1 Structured Learning Hour; AANB 1 Hour of Core Learning; AAPEI 1 Structured Learning Hour; This course can be self-reported to the AIBC, as per their CE Guidelines.; MAA 1 Structured Learning Hour; NLAA 1 Hour of Core Learning; NSAA 1 Hour of Core Learning; NWTAA 1 Structured Learning Hour; OAA 1 Learning Hour; SAA 1 Hour of Core Learning
Learning Objectives:
Analyze fire protection in wood buildings in terms of compliance with the 2015 International Building Code (IBC).
Discuss the fundamentals of passive and active fire protection.
Determine allowable wood use in buildings in accordance with the 2015 IBC.
Describe provisions in the IBC for increasing the height and area of wood buildings beyond the base tabular amounts.
Identify and select tested fire-rated wood-frame assemblies or, to use non-listed assemblies, calculate the fire endurance of load bearing and non-load bearing wood assemblies using the Component Additive Method (CAM).
This course is part of the Wood Structures Academy
Tested Assemblies
Code recognition of 1- and 2-hour wood-frame walls, floors, ceilings and roofs are predicated on successful fire and hose stream testing conducted in accordance with ASTM E119, Standard Test Methods for Fire Tests of Building Construction Materials or UL 263, Standard for Fire Tests of Building Construction and Materials.
Depending on the application, building elements may need to be fire-rated from one side or both sides. For specific exterior wall applications where there is adequate fire distance separation from adjacent structures or the property line, the IBC allows wood-frame walls to be tested for exposure to fire from the inside only. Rating for both interior and exterior fire exposure is only required when the wall has a fire separation distance of less than 10 feet. For floors, ceilings and roofs, resistance to fire exposure is measured from below.
For a detail of a 2-hour exterior wall assembly, see page 8.
Calculated Fire Resistance
The fire resistance of exposed wood members may be calculated using the provisions of Chapter 16 of the National Design Specification® (NDS®) for Wood Construction (see IBC Section 722). AWC's Technical Report No. 10 (TR10), Calculating the Fire Resistance of Exposed Wood Members, contains full details of the NDS method as well as design examples. Previous versions of the IBC contained a separate method of calculating fire resistance of exposed wood members, which was limited to 1-hour fire resistance. This provision has been deleted in the 2015 edition of the IBC, since the NDS Chapter 16 method has broader application and provides a more reliable calculation procedure. Additionally, with the 2015 NDS referenced in the IBC, the calculation method of determining a fire-resistance rating may now be used for cross laminated timber.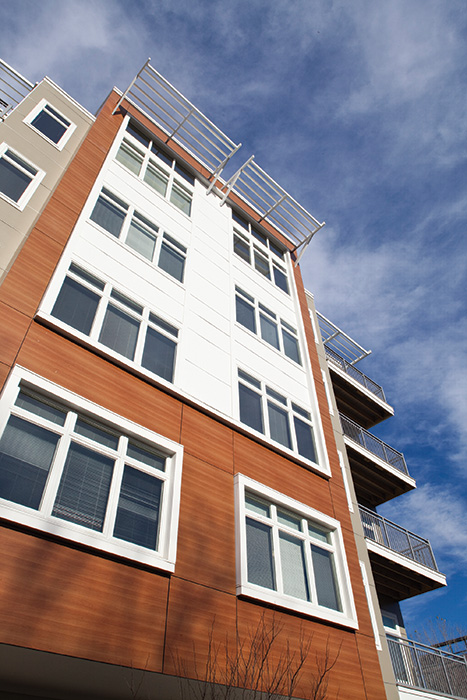 Architect: CUBE 3 Studio. Structural engineer: Veitas & Veitas Engineers. Photo: CUBE 3 Studio & Rixon Photography.
Vox on Two in Cambridge, Massachusetts, includes four stories of Type VA wood-frame construction over a Type IA concrete podium. A 3-hour fire-rated horizontal assembly separates the wood-frame residential portion from the concrete garage. Fire walls were also used to divide the wood-frame portion of the structure into four separate buildings for the purpose of determining allowable height and area. (See Fire Walls on page 5.) A project of Criterion Development Partners, the 335,500-square-foot structure was completed in 2014 for a construction cost of $46.6 million.
Originally published in Engineering News-Record
Notice