Insulated Metal Panels and the Protective Barrier Concept
How IMPs fulfill multiple roles in the building envelope, providing thermal, air, water and vapor protection
Sponsored by Metal Construction Association
Learning Objectives:
Describe how the featured projects incorporated insulated metal panels to achieve a high level of thermal and moisture protection, including ways in which increased insulation and reduced air leakage delivered by an IMP ensure a protected building envelope that is built for long-term success.
Discuss the numerous performance benefits of IMPs, which are designed as a factory-manufactured system to deliver a water, vapor, air and thermal barrier within one panel that can be installed all at one time.
Explain the importance of correct fastening and sealing of IMP systems in order to maintain impermeability to the elements.
Discuss how IMPs support a comfortable interior for occupants without thermal energy loss and moisture penetration.
Credits:
This course can be self-reported to the AIBC, as per their CE Guidelines.
As an IACET Accredited Provider, BNP Media offers IACET CEUs for its learning events that comply with the ANSI/IACET Continuing Education and Training Standard.
This course is approved as a Structured Course
This course can be self-reported to the AANB, as per their CE Guidelines
Approved for structured learning
Approved for Core Learning
This course can be self-reported to the NLAA
Course may qualify for Learning Hours with NWTAA
Course eligible for OAA Learning Hours
This course is approved as a core course
This course can be self-reported for Learning Units to the Architectural Institute of British Columbia
This webinar is part of the Metal Architecture Academy
The buildings of today must satisfy a supreme standard; they are called upon to achieve high performance: to be resilient, healthy, and energy efficient. Building science has given us a focused modern design emphasis on the building envelope in response to the movement of thermal, air, water, and vapor conditions. These demands elicit dramatic changes to building envelope designs and the components used within. This course will examine the benefits of insulated metal panels and how advancements in IMP systems provide a safe and economical edge when it comes to the protective "4+" barrier concept, meeting the demands of long-lasting high-performing buildings, energy efficiency, and occupant comfort combined with versatile aesthetic options.
TVA Architects' Eric Li will present the Drivers Club, located in Redmond, Washington. The Drivers Club was conceived as a facility that would create a community of users who share a passion for high-performance cars. The facility fundamentally needed to be a secure place for members' rare and exotic vehicles, while still being open and inviting to allow for a wide range of interactions, from informal gatherings to special events. It was essential for the project to reach a design level that is worthy of the vehicles it houses while simultaneously adhering to the strict budgetary parameters of a start-up business.
This project is truly a metal building, from the structure to the skin and even to the purely architectural elements of the corrugated overlay panels that give rhythm and depth to the street-facing façade. The pre-engineered building system was carefully considered in all aspects by the architectural team as well as from SPAN Construction, the erector/ installer, to ensure that the building was clean, efficient, and coordinated—the perfect backdrop to a gallery-like presentation of members' prized possessions. The insulated panels, which are the primary building envelope material (other than glass), were patterned using the manufacturer's standard panel sizes, and the design team shifted the color, sheen, and texture on the panels on the largest parts of the building to create an elegant striping effect that changes as you move around the building and see the panels from different orientations.
Next, Tyrone Marshall of Perkins+Will will focus on a design study of the Hartford Hospital Bone & Joint Institute in Connecticut, where he will show how his firm assessed performance related to the facility's metal wrap panel, and will explain what's different for this metal panel versus other types of insulated metal panels.
Finally, Amanda (Mandi) Karns will bring her vast industry expertise to provide a detailed overview of insulated metal panels, including how they are made and their many benefits—from speed of installation to energy-savings, air and water barriers, and endless design possibilities.
The presentations will be followed by a moderated discussion, addressing several key issues related to the use of insulated metal panels in high-performing, energy-efficient buildings.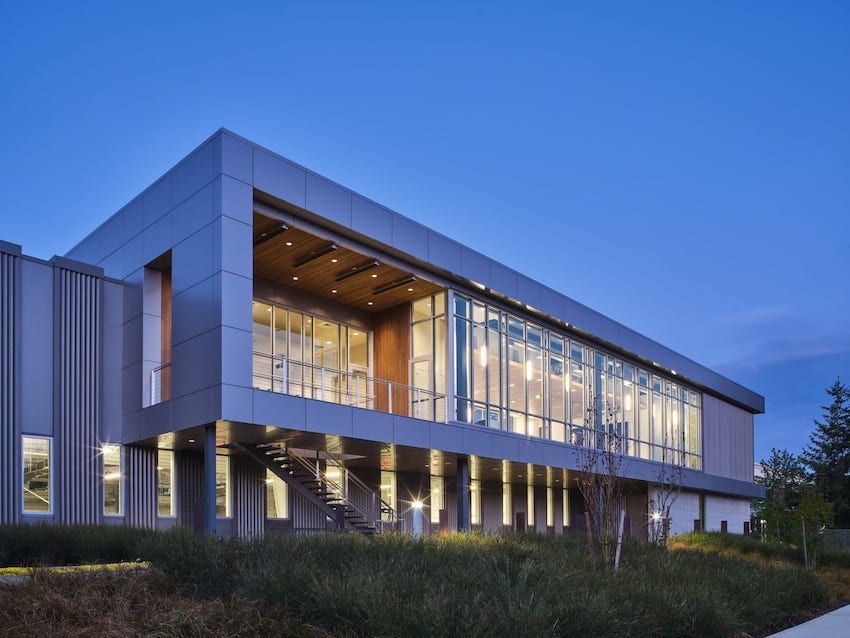 Photo courtesy of TVA Architects
| | |
| --- | --- |
| | Eric Li, is a Senior Associate with TVA Architects in Portland, Oregon. Since joining TVA in 1997, he has specialized in designing and detailing complex exterior envelope systems. In addition to managing the Drivers Club, Eric's experience includes the Fox Tower in Portland, the Ford Alumni Center at the University of Oregon, and a number of long-span industrial buildings. |