New Innovations in Vertical Air Conditioning
How building owners, installers, and occupants benefit from a quicker install and simplified design
Sponsored by GE Appliances Air & Water Solutions
Learning Objectives:
Discuss how new vertical terminal air conditioning (VTAC) technologies lead to savings in time and costs.
Describe what makes VTAC technology easy to install and how that plays into current skilled labor shortages.
List three new features that a VTAC system can provide that lead to comfort for the building occupant.
Explain how new VTAC technologies can lend themselves to aesthetic needs in hospitality and related industries.
Credits:
BNP Media has met the standards and requirements of the Registered Continuing Education Program. Credit earned on completion of this program will be reported to
RCEP.net
. Certificates of Completion will be issued to all participants via the
RCEP.net
online system. As such, it does not include content that may be deemed or construed to be an approval or endorsement by the RCEP.
This course may qualify for continuing education through the FBPE.
This course may qualify for continuing education through the NYSED. For further information, please visit the NYSED website at
http://www.op.nysed.gov/prof/pels/peceques.htm
.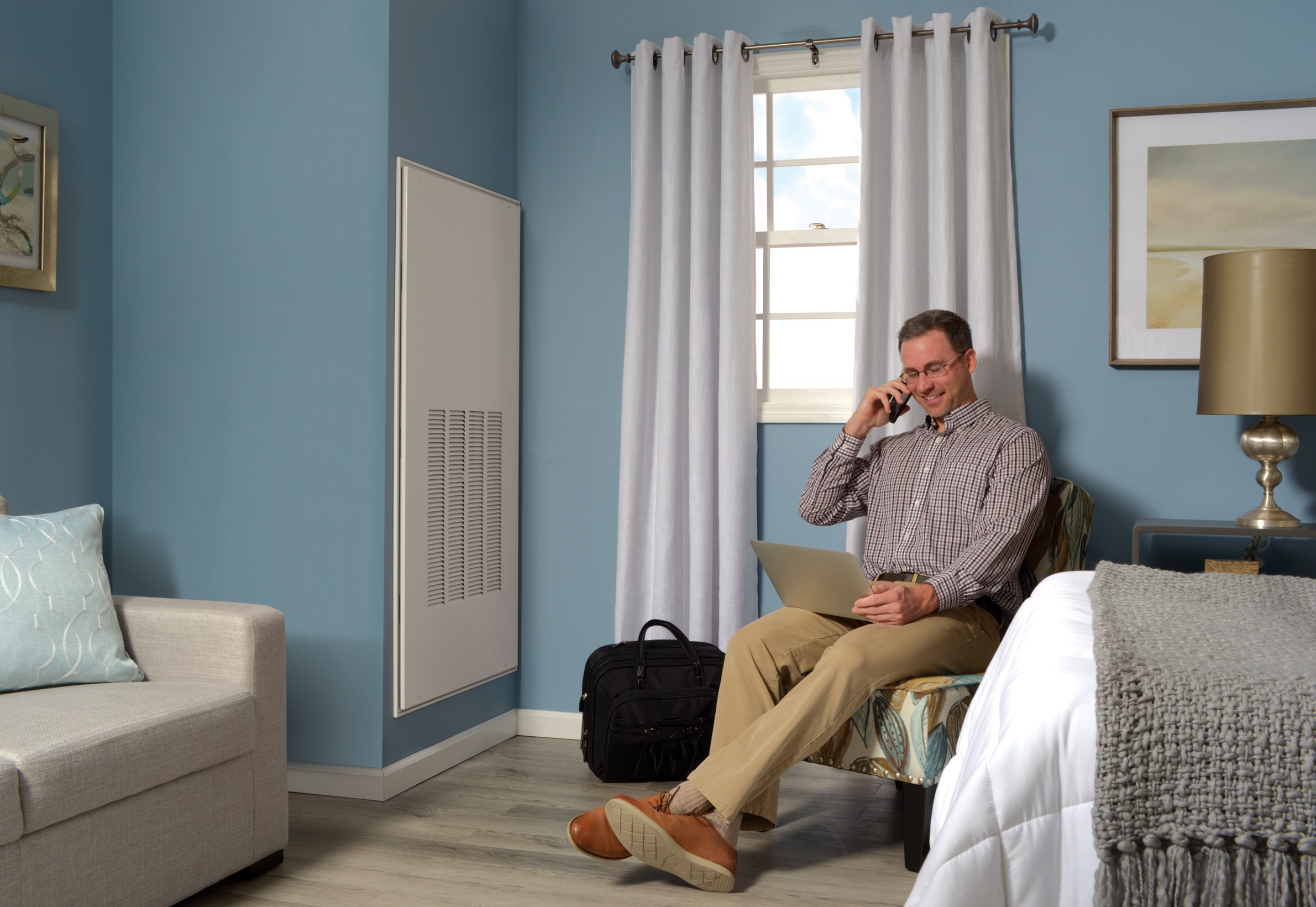 All images courtesy of GE Appliances Air & Water Solutions
The VTAC system fits unobtrusively into a room and is quiet and easy to use, providing occupants with a more enjoyable experience.
Evolution of VTAC technology
Air conditioning systems were once considered a luxury, but now they are an essential item for most buildings — from offices to hospitals and from multifamily and single-family homes to hotels. Important breakthroughs have led to innovative air conditioning systems that feature easy installation, clean and compact designs, energy efficiency, and lower costs.
In 1902, Willis Carrier designed the first modern electrical air conditioning unit, and in 1904, Americans experienced the concept of comfort cooling at the St. Louis World's Fair, where mechanical cooling was used to cool the Missouri State Building. Though costs for cooling units were high, by 1947, engineer Henry Galson had developed compact window air conditioners that could be easily manufactured on production lines, lowering the cost and making them more available to the public. Energy efficiency standards also developed over this timeline, which helped drive improvements in the technology.
Vertical air conditioning is a technology that has raised the bar in achieving the needs of owners, installers, and occupants. The systems are self-contained in a vertical cabinet and allow for installation in places where space is tighter and for easy and economical transportation. Ambient air inside a room is pulled through the return, and the conditioned air is sent back into the room through the supply. On the outside, air is pulled into the system to help with the condensing and cooling process. Heat removed during the cooling process is exhausted to the outdoors.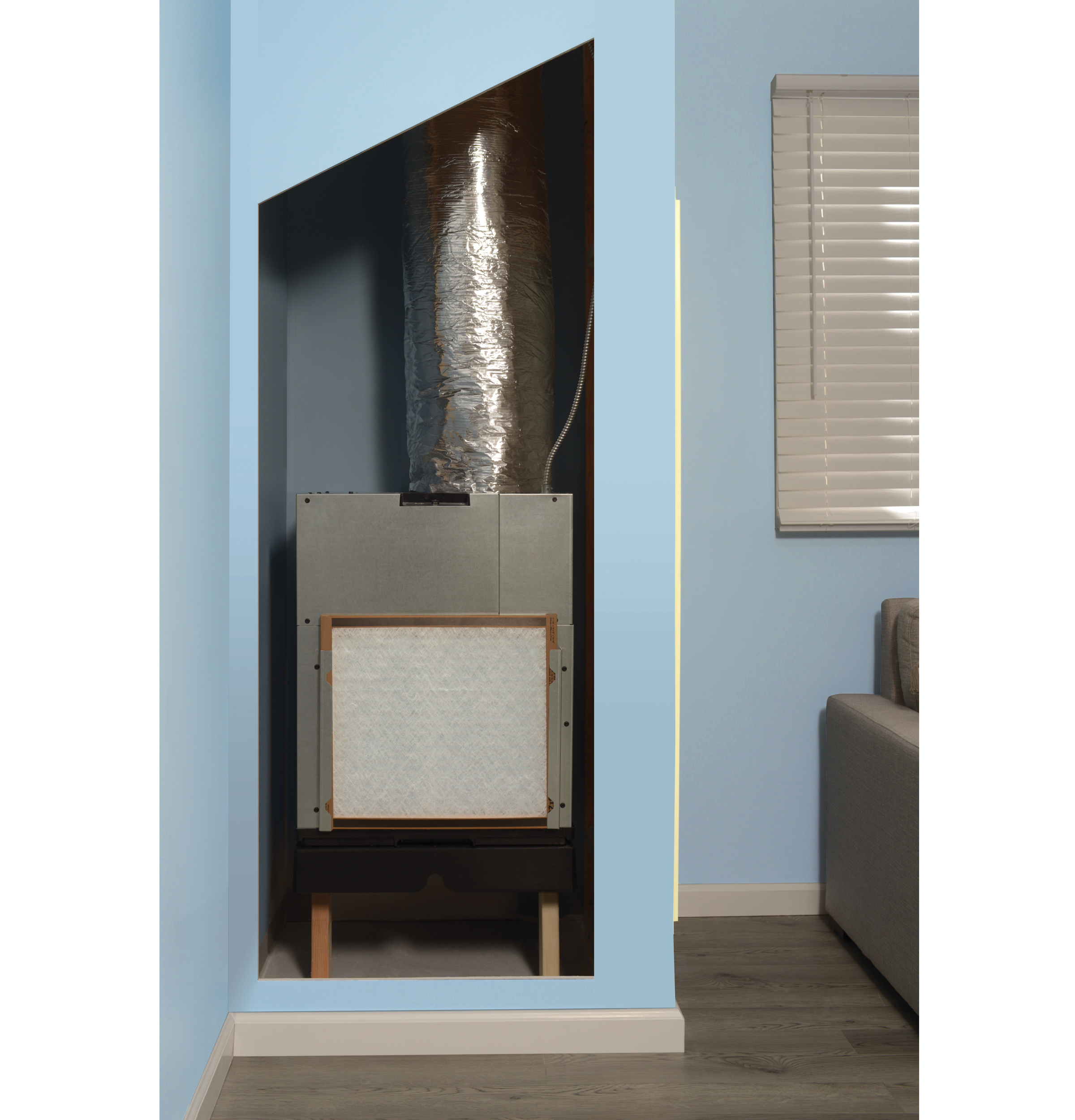 A vertical terminal air conditioning (VTAC) system is a heating-cooling unit that can be installed in a space hidden from view, like a closet, and it can control the temperature of a single room or multiple adjoining rooms in a building.
One of the newest innovations in vertical air conditioning is a vertical terminal air conditioning (VTAC) system, also known as a single packaged vertical unit (SPVU). An SPVU is a compact, through-the-wall packaged system that provides total heating and cooling functions for a single zone or multiple rooms. A VTAC is a heating-cooling unit that can be installed in a space hidden from view, like a closet, and it can control the temperature of a single room or multiple adjoining rooms in a building. VTACs are especially desirable in hotel and motel rooms, assisted-living centers, offices, and apartments or condos where space is limited or where an out-of-sight quality is preferred. Their ability to be concealed provides better aesthetic qualities and sound reduction while still offering the cool environment necessary for occupant comfort.
Like a regular packaged terminal unit, the latest VTAC system is installed through the wall, but instead of being 42 inches wide and installed in the middle of the room, it has a vertical configuration and is installed in an enclosure, which gives the space a more home-like appearance. It has a top-air discharge that is ducted into a single room or multiple rooms. It is controlled by a wall-mounted thermostat similar to those found in most homes but provides more precise settings. Because it doesn't need to be installed under a window in the middle of the room, curtains can hang all the way to the floor, and more versatile room designs are possible. It provides the cost benefit of packaged terminal units with the aesthetics, quieter operation, and flexibility of a central system.
VTAC systems have several important qualities including versatility, sound control, and power. But some of the latest innovations in VTAC also include easy installation and a lower price tag. These new systems were developed in collaboration with hotel owners, residential property owners, and architects. This collaboration is important because building owners were able to address important feedback from occupants in terms of noise and user ease. They were also able to provide input about difficulties in installation and help provide inspiration to manufacturers for developing systems that better satisfied installers, occupants, and owners. In addition, architects were able to offer feedback on aesthetic design — what kind of system could mesh with their vision of a pleasing space.
The new technology is also fitting for the times when pandemic life has created new concerns for indoor activities. As the architectural and construction world adapts to the need for new designs, air conditioning is yet another element that has evolved to provide innovative solutions for the health, safety, and well-being of occupants.
Innovation in air conditioning systems and better installation
When it comes to new VTAC technologies, products can occupy a sweet spot of being low maintenance but still providing high-end guest comfort and reliable performance. This section will explore the new VTAC technology in detail, including focusing on 10 innovative features that benefit the user and lend themselves to easy installation.
Installation features and details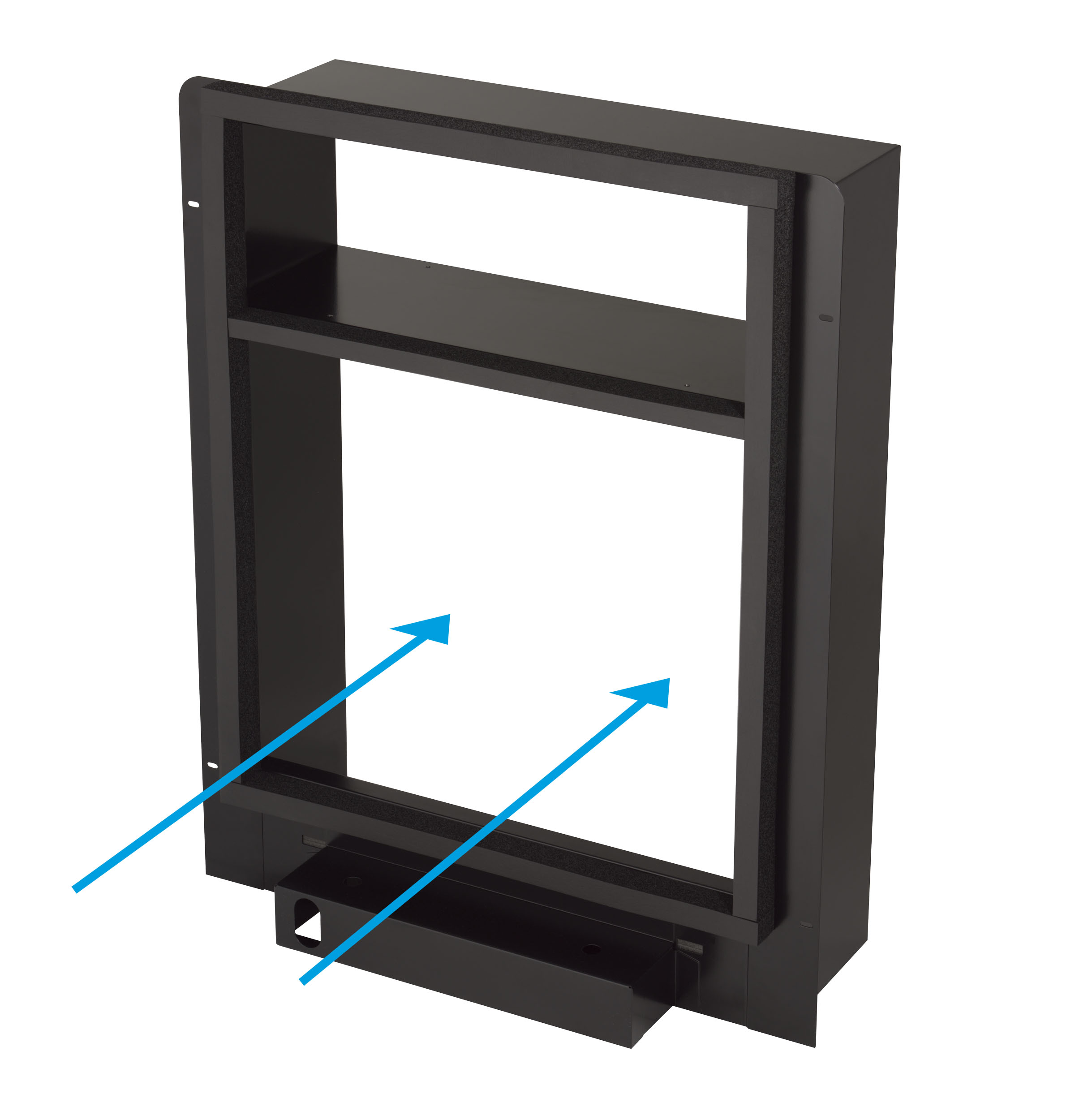 The plenum is easily installed from the interior of the building without needing to access it from the exterior.
The latest VTAC design features a new chassis and platform created by engineers who collaborated with builders, property owners, and architects. The process begins with installing the wall plenum, which first requires measuring the depth of the wall opening and adding a quarter inch to the measurement. That will be the required depth of the adjustable depth plenum. If the opening is less than 7.5 inches, no adjustment is required. The new wall plenum is expandable to work with walls 8 to 15 inches inches thick; adjustments can be made and are discussed in the manufacturer's manual. Attach the grille to the wall plenum, which can be aligned with the screws and pushed through the keyhole slots. Once the grille is square with the plenum, you can tighten the screws. Apply caulking to the wall and framing opening. Once that's done, the plenum can slide into the wall and should be attached with four screws (two on each side). When the plenum is secure, apply caulk to the seam of the plenum, between the inner and outer halves of the plenum, putting the caulk at least 3 inches up each side. Caulk should also be applied to the outside of the building around the perimeter of the plenum to ensure a water-tight seal.
Originally published in January 2022
Notice