Engineering strategies for building defenses
Provided by Engineering News-Record
Learning Objectives:
Describe how new seismic design tools are improving steel diaphragms.
Explain how new "living buildings" are incorporating seismic design.
List some of the challenges and benefits that performance-based wind design could bring to current building codes.
Discuss how the NEHRP is working to improve seismic design for architects and contractors.
Credits:
BNP Media has met the standards and requirements of the Registered Continuing Education Program. Credit earned on completion of this program will be reported to
RCEP.net
. Certificates of Completion will be issued to all participants via the
RCEP.net
online system. As such, it does not include content that may be deemed or construed to be an approval or endorsement by the RCEP.
This course may qualify for continuing education through the FBPE.
This course may qualify for continuing education through the NYSED. For further information, please visit the NYSED website at
http://www.op.nysed.gov/prof/pels/peceques.htm
.
Below are a set of links to articles. Click on each link below to read the articles and then complete the quiz to earn your credit and certificate of completion.
Resiliency is an essential consideration when it comes to engineering buildings. Between extreme weather events, fires and seismic activities, design strategies must consider everything from blast-resistant doors to expansion joints to backup power and other elements. This course explores several strategies that aim to ensure bases are covered for maintaining building structures and keeping occupants safe, as well as proposals to incorporate these strategies into building code.
Steel Diaphragm Innovation Initiative Improves Seismic Design Tools
Northwestern University researchers are using seismic design tools for the Steel Diaphragm Innovation Initiative that could speed up construction of high-performance steel frames. The novel experiment involves unprecedented collaborative research on the seismic performance of steel floor and roof diaphragms in steel structures that could lead to more resilient construction and concrete-free tops.
Nadine M. Post
PAE Living Building Team Perseveres Through Pandemic and Unwelcome Outside Forces
Portland, Oregon's PAE Living Building office building with ground-floor retail is taking both sustainability and seismic resilience to new levels. It is on course to be the first privately developed, speculative office building fully certified under the rigorous Living Building Challenge sustainability program of the International Living Future Institute (ILFI). This article looks at the resiliency aspects of the project and the story behind it.
Nadine M. Post
Structural Fire Engineering Can Improve Building Safety, Schedule
Performance-based structural fire design of steel frames can eliminate the need for fire protection on up to half of a building's floor beams, according to a two-year study of PBSFD. Still, structural engineers leading the way toward more common use of structural fire engineering in the U.S. say there is more testing needed—especially on column-to-beam connection details—to prove all the benefits of PBSFD. This article explores sophisticated modeling of a design under fire loads.
Nadine M. Post
Performance-Based Wind Design Could Improve Buildings, Say Engineers
The Prestandard for Performance-Based Wind Design is the first document ever produced to aid in performance-based wind design that could eventually be incorporated in the model building code PBWD. This article provides an overview of what the publication focuses on in terms of structural solutions to optimize wind design and how these solutions would be implemented.
Nadine M. Post
NEHRP Recommendations Likely To Improve Seismic Design
Code-based earthquake engineering is on the verge of getting simpler, thanks to the National Earthquake Hazards Reduction Program's recommendation to replace the traditional seismic hazard maps with an improved seismic hazards database. This article discusses the recommendation put forth in the 2020 update of the NEHRP seismic design provisions, which are the foundation for the prescriptive seismic design code for buildings and other structures.
Nadine M. Post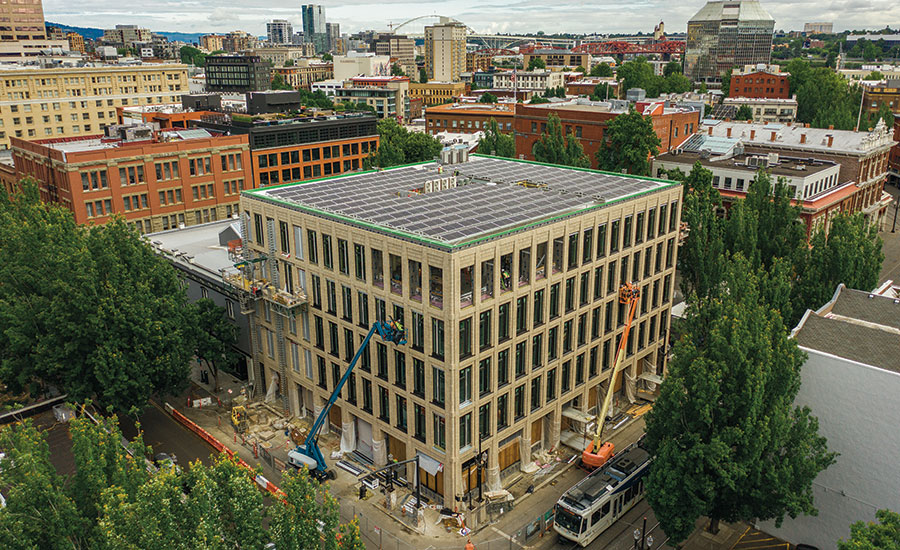 Photo courtesy of Jamie Goodwick/Portland Drone
Originally published in September 2022
Notice